Ever feel like you need a bit of freedom in your life, maybe an adventure to shake things up in a good way? A place full of nature, warm people, and sights to keep your spirits up?
Camping in Iceland may be just the thing for you. No need to imagine waking up to a beautiful sunrise in a spectacular fjord, experiencing the midnight sun or the northern lights, and soaking in a hot spring when you can visit Iceland and experience the magic yourself.
Find out more as you navigate this guide containing everything you need to know about camping in Iceland.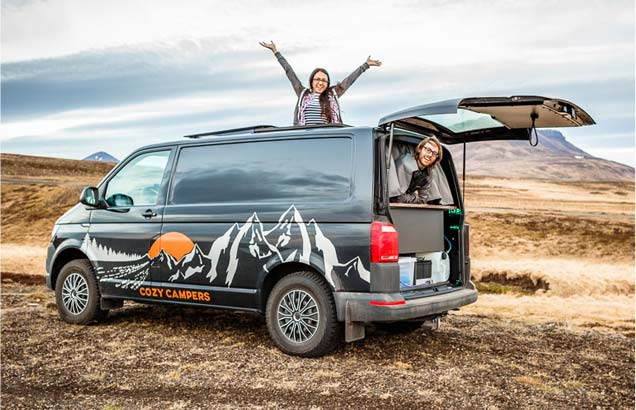 Why Camp in Iceland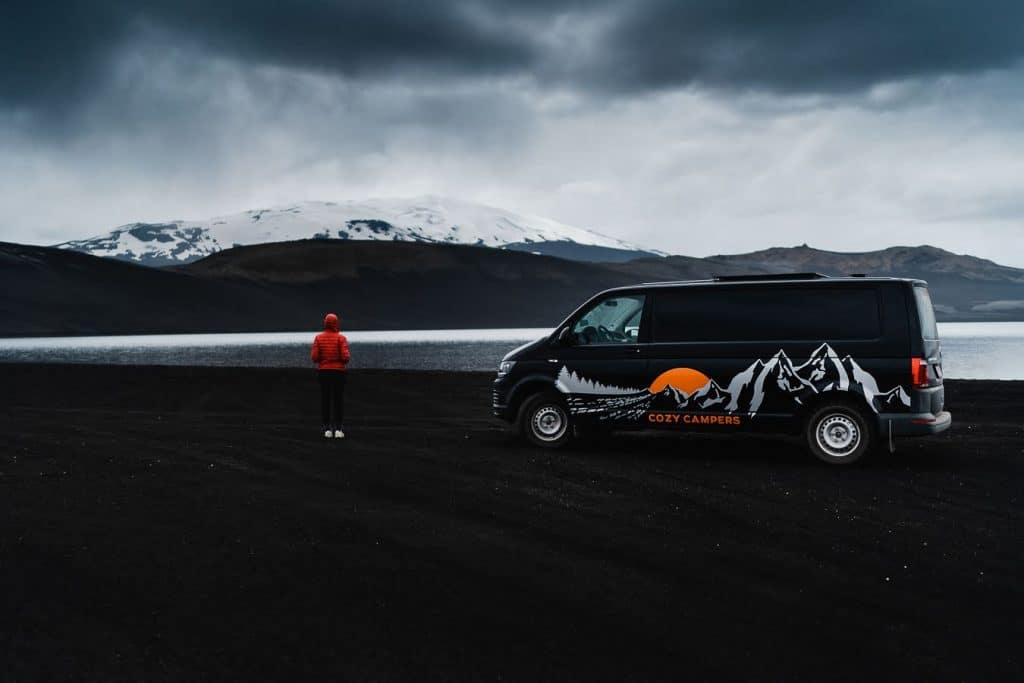 Do you need reasons to go camping in Iceland?
To connect with nature. Iceland is a place of many geologic wonders unique to the Nordic nation, if not marvelous in scale. This includes but certainly not limited to glaciers, lava fields, waterfalls, geothermal pools, hiking trails, hot springs, and black beaches.
Iceland has a population of 387,758 people as of January 1, 2023, with 139,875 living in Reykjavik (Reykjavíkurborg). The least populated is Árneshreppur, located in the Westfjords, with 47 people.
Expect Iceland's top tourist spots like the Golden Circle and South Coast to live up to their reputation as tourist magnets during peak season. There can be fewer people and plenty of nature to see in Iceland if you go by less touristy spots or the proverbial roads less traveled.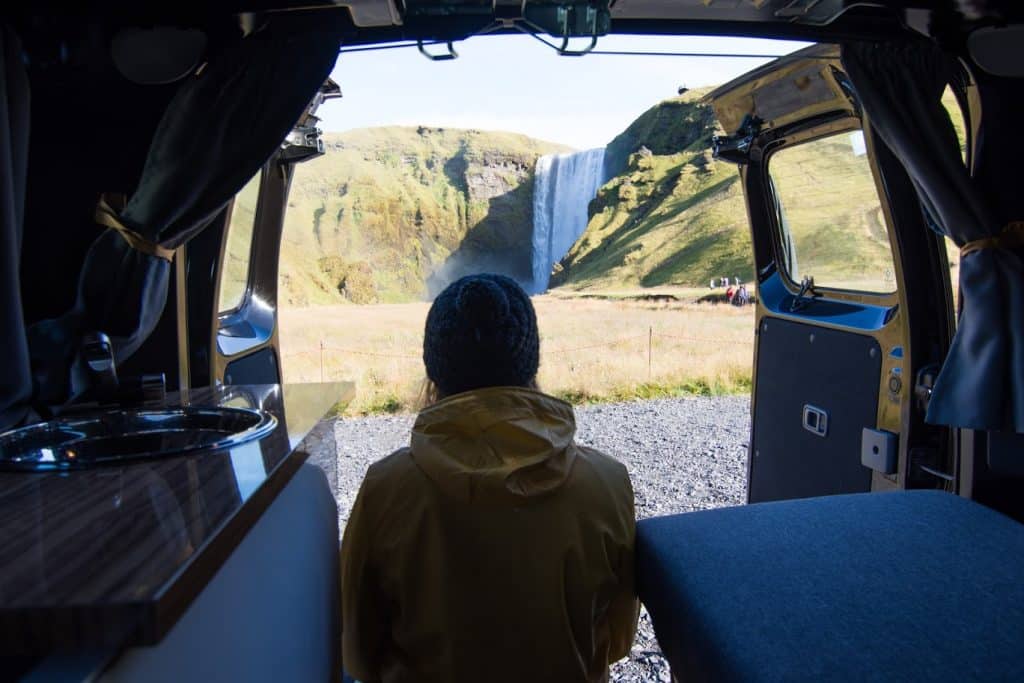 To experience Iceland like no other. Relatedly, camping in Iceland gives you the best seat with a panoramic view of the great Icelandic outdoors. It's an immersive activity that not only lets you take in nature but also meet tourists and locals.
Field camping is what some have described as the experience of camping in Iceland. It is field camping underneath the stars, mountains towering above, great expanses of land, forested areas, streams, rivers, waterfalls a walk away—some campsites are on farms where one can see sheep, horses, etc.
Plenty of activities like horseback riding, hiking, fishing, swimming (in nearby public pools), and exploring the town await.
To save money. This article published in 2022 talked about a 11-day holiday costing the family £10,000 (they did realize savings from a 4×4).
If you factor in inflation, the hotel rates, food prices, and fees of experiences then would have gone up by now. Cost is a huge factor, and it's a good enough reason to consider camping in Iceland in the first place.
Is it cheaper to camp in Iceland, then?
---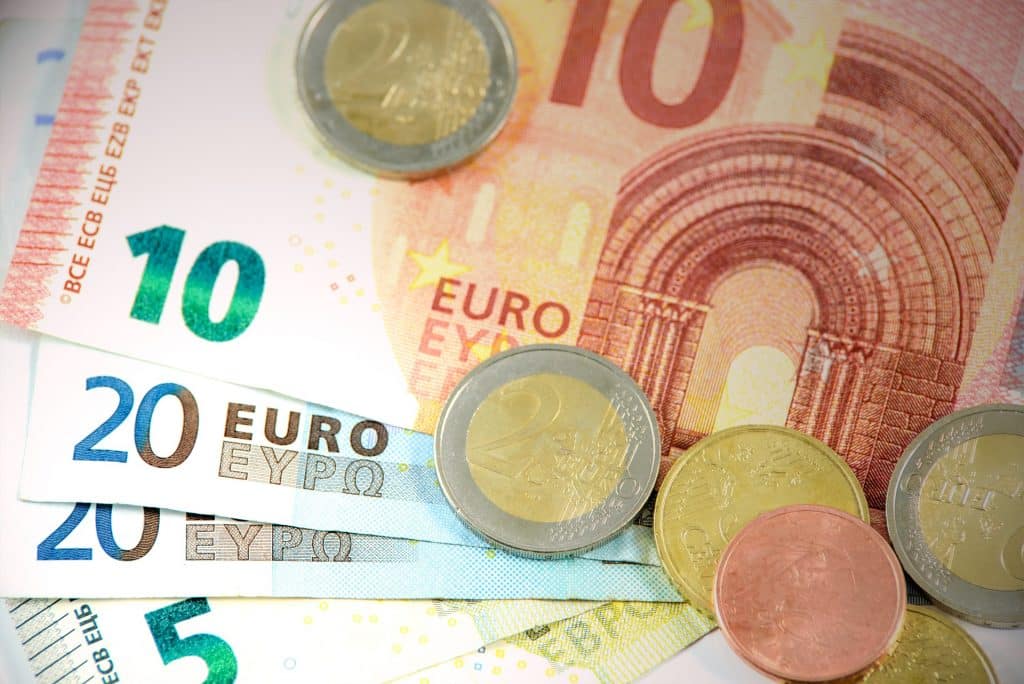 Camping in Iceland is not entirely free, even if you stay in a free campsite which is rare itself. It is however cheaper to camp in Iceland than to stay in a hotel overnight.
Between spending $100 a night for a hotel room and approximately $60 (ISK 8.000) at the Skaftafell campsite which is part of Vatnajokull National Park) for having access to space with electricity and facilities like hot showers for up to six people, you may be able to stretch your money doing the latter.
The cost of gas is what you'll need to take into account for your road trip. For reference, check the prices of diesel and petrol in Iceland here.
Top Things You Need to Know before Camping in Iceland
Let us be clear on some key points before getting into the finer details of your trip.
Weather
---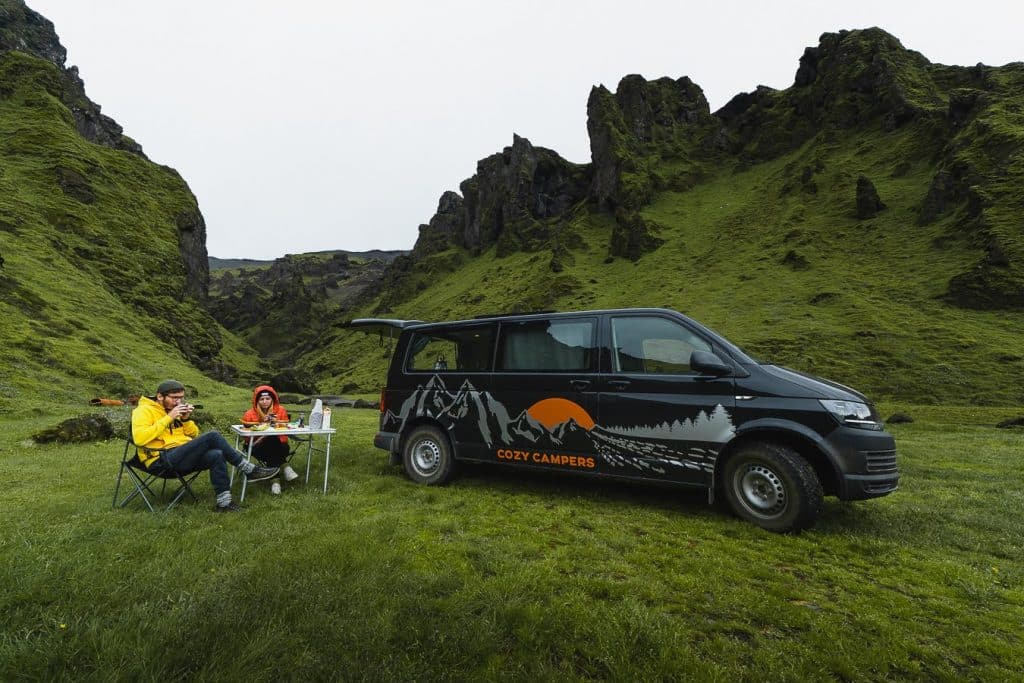 The Icelandic weather is unpredictable even during the summer.
As they say, if you don't like the weather [in Iceland], just wait for five minutes. There's another one and this speaks of being prepared all the time: There's no such thing as bad weather, only bad clothes.
Wind is a top concern especially when you are driving. There have been many reported instances of the wind ripping car doors out of one's hands. The wind can be so strong on any given day, even when you think it isn't.
It pays to have insurance, so discuss it with your campervan rental company.
Always check the weather and its forecast. Keep an eye on road conditions, which you can monitor here. Also let someone know where you are going. Rent a 4×4 for winter driving or if you plan to access F-roads.
Drinking water
---
It is safe to drink water from the tap in Iceland. That includes sinks found at most campsites where you can easily refill your water bottle. Water from streams and rivers in Iceland is also safe to drink.
However, hot water in Iceland is not for drinking. While it could meet the standards for drinking water, you'd rather not drink water from the hot tap intended for bathing. Plus it might smell funny, as the hot water contains hydrogen sulfide causing the "rotten eggs" smell.
Camping conduct
---
The Traveller's Code of the Environmental Agency of Iceland offers a good list of things to remember when traveling around Iceland. Keep these in mind as early as now:
Leave camping and picnic sites as you would wish to find them.
Never bury litter or leave it lying around.
Never light open fires on vegetated land.
Never dislodge stones or build Cairns.
Keep water clean and safeguard springs and pools.
Keep vegetation undamaged.
Keep wildlife undisturbed.
Never damage geological formations.
Respect the tranquility of the countryside.
Never drive off roads.
Keep to marked footpaths when requested.
Respect conservation rules and warden's instructions.
How to Camp in Iceland
Let's go over your options for camping in Iceland.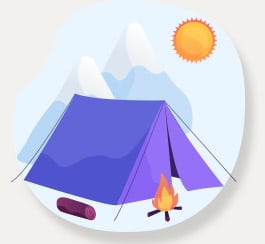 Tent Camping
---
Camping in a tent is a classic way to camp in Iceland. It's setting you up closer to nature and most ideal during the summer months—ensure that your tent can hold up against the wind.
Compared to car and campervan camping, tent camping can give you more freedom in terms of where to camp. Before you plan to wild camp, understand the rules and restrictions.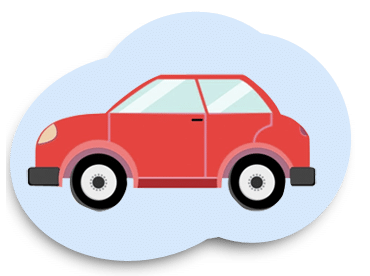 Car Camping
---
Renting a car makes getting around Iceland convenient. As for the actual camping, it's possible to sleep in the vehicle (or a rooftop tent) or set up a tent in a campsite.
This range of options gives renting a car an edge. It's also a cheaper option than a campervan or motorhome, and unless you venture into rougher roads, a standard car will do for driving around the Ring Road.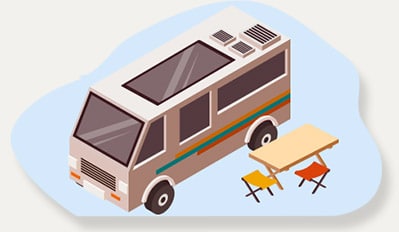 Campervan Camping
---
A camper van, motorhome, RV, and the like upgrade the experience of traveling and camping in Iceland. It's like a home away from home if you consider the amenities that come with the campervan (and other camping equipment you can rent).
Ranging from budget-friendly to luxury, the campervan can be as spacious or well-furnished as you want it to be. More importantly, it's a reliable shelter from the weather and suitable for camping anytime of the year in Iceland.
Best Way to Go Camping in Iceland
The price of accommodation in the country has gone up considerably in the last few years. Therefore, the locals are starting to turn their attention to camping in Iceland.
Since the weather is also ever-changing, conventional camping with a tent isn't for everyone, not even in the summer. Some camping sites around Iceland are staying open throughout the year, too.
This is why you need a campervan.

The services around the main roads in Iceland are also getting better and better. This includes the less-traveled routes, such as Ring Road 2, the new Westfjords ring road, which is a spectacular drive in itself and definitely worth doing.
Campsites in Iceland range from basic to luxury considering the amenities being offered. Combine that with in-camper features and extras, camping in a campervan can be a cozy and satisfying experience.
Eat in.
Budget for food per person could be 2,075.55 kr, according to crowdsourced data on Numbeo. The figure is an estimate, but the list of foods can be a good reference point.
A campervan is furnished with a gas stove, kitchenware, and dinnerware. Preparing your own meals saves money, plus shopping at Iceland's grocery stores (find budget supermarkets) in Iceland introduces you to what locals would eat.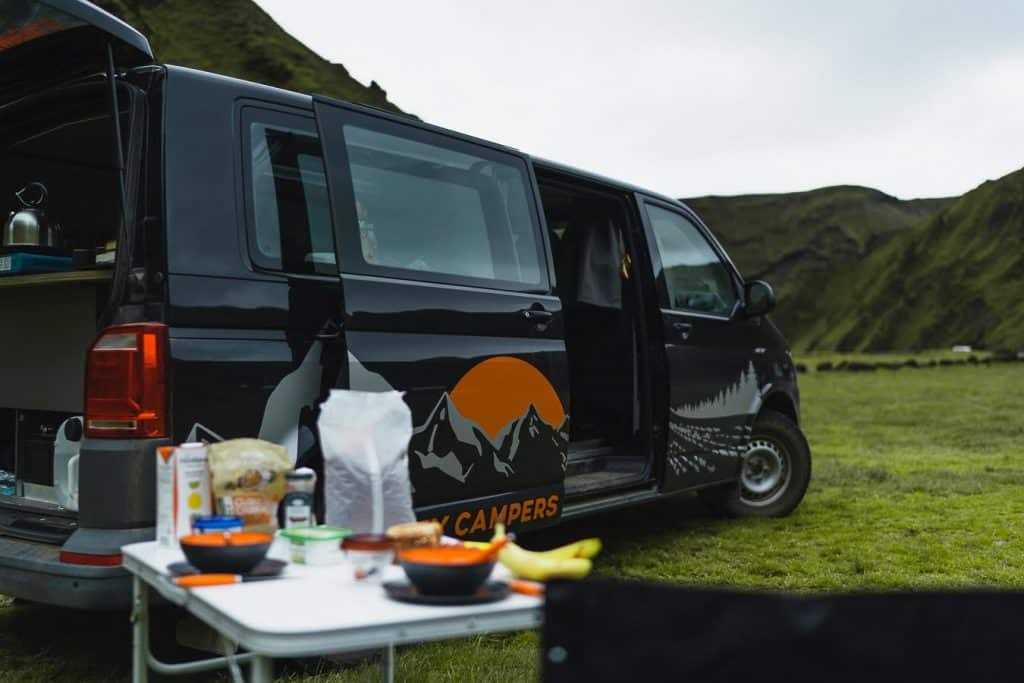 Even when you don't really cook, a cooler (also on a camper) is pretty handy to store must-try Icelandic snacks from sweet to savory.
Travel with a group.
A campervan can fit a couple with a kid for a much-needed family vacation in Iceland. It can accommodate up to four people, anything beyond that would require renting a motorhome.
The latter is bigger and more furnished and thus commands a higher price. Compare our budget camper for two adults rented out at 99 EUR a day versus a two-berth motorhome of 203 EUR.
Travel as lightly as possible.
Majority of the things that you'll need to enhance the experience of camping are pretty much on the camper: gas cooker, bedding, heating system, radio, and more. Bringing a tent becomes an option, and so is a warm sleeping bag or sleeping pad.
It would be a challenge to travel with those things on your back. It'll be less trouble storing your camping gear in your car rental. But when the conditions outside are hardly optimal (remember Iceland's weather is unpredictable), you'll have a warm camper to come home to.
Where to Camp in Iceland
Presenting the Cozy Campers Iceland Campsites Map!
Updated as of 2023, our map is intended to help travelers, including tent campers and those in campervans, looking for information about campsites in Iceland. Each campsite description contains the biggest questions that people ask such as its opening times, facilities or amenities, pricing, and contact details.
How to use the Cozy Campers Iceland Campsites Map:
Access our map of Iceland campsites on Google Maps here.
Tick any of the boxes found on the side bar to begin your search.
You can click on the tent icon or the items under the dropdown box, as ticked. The icon color is based on when the campsite is open—all year round, summer, parts of winter, and those located in the Highlands. If you are planning to use a CampingCard, we have a dedicated section of its participating campsites.
Clicking the icon or item will open the information tab of the campsite. There you'll find the general description of the campsite, facilities or amenities available, pricing, and location. We also included the website and contact number of the campsite.
We strive to make a complete guide of campsites in Iceland and keep our map as accurate and updated as possible.
What are the best campsites in Iceland?
Locals love camping in Iceland! We are happy to tell you that it is totally worth it, and we know because it seems that we never get tired of Iceland ourselves (we live in Iceland, by the way). It always continues to surprise us.
It's hard to recommend camping sites out of the hundreds of camping grounds in Iceland. We do have our favorite campsites, so check them out:
Is it legal to camp anywhere in Iceland?
---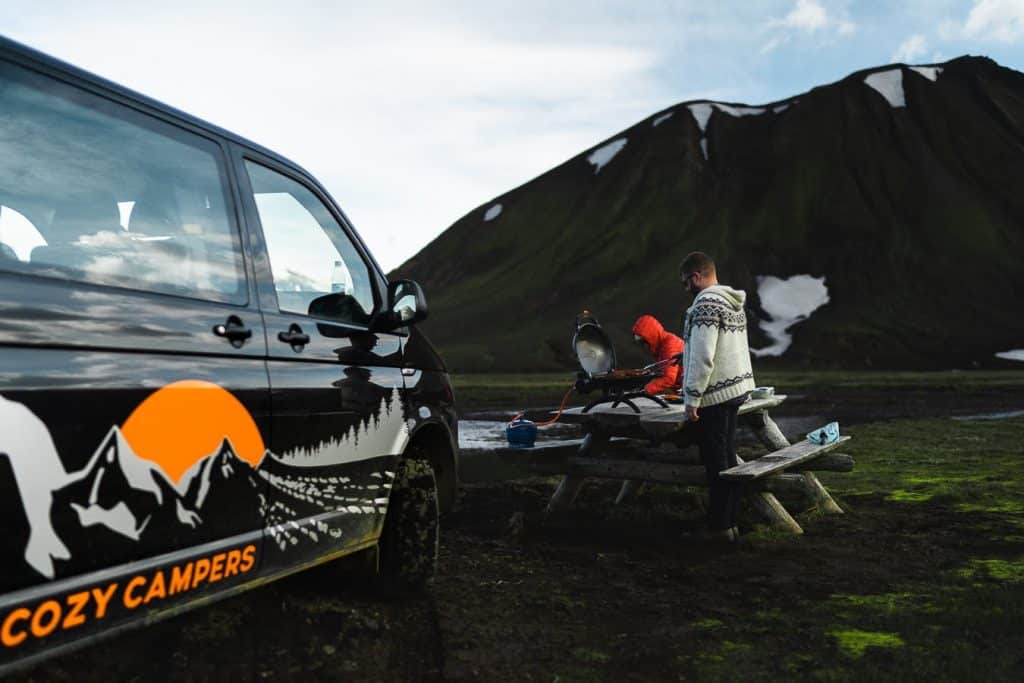 No, it is not permitted to camp anywhere in Iceland. Known as wild camping, this practice is not only illegal but heavily discouraged due to its impact on the environment and people.
You can't set up camp in national parks in Iceland. You also can't park your vehicle anywhere to camp for the night. By vehicle, it includes tent trailers, camper vans, motorhomes, and any car with a rooftop tent.
Park and set up camp for the night in organized campsites only. Iceland has many campsites open during the summer, winter, or throughout the year, and some are located near the vicinity of national parks.
Is wild camping allowed if you go tent camping?
---
You may be permitted to pitch a traditional tent in a place subject to certain restrictions. Iceland's Environmental Agency has outlined the specific scenarios when camping in a tent outside organized Icelandic campsites is permissible.
In South Iceland, too, it is allowed to pitch your tent in the wilderness, as defined.
There can be a lot to the rules about wild camping that it's wiser to just stay in the designated campsites whether you are tent or camper van camping. It's best to know the laws on camping in Iceland on national and local levels.
What are protected areas? Is it illegal to camp there?
---
Find the protected areas and their camping restrictions on this list.
When do you need permission to park?
---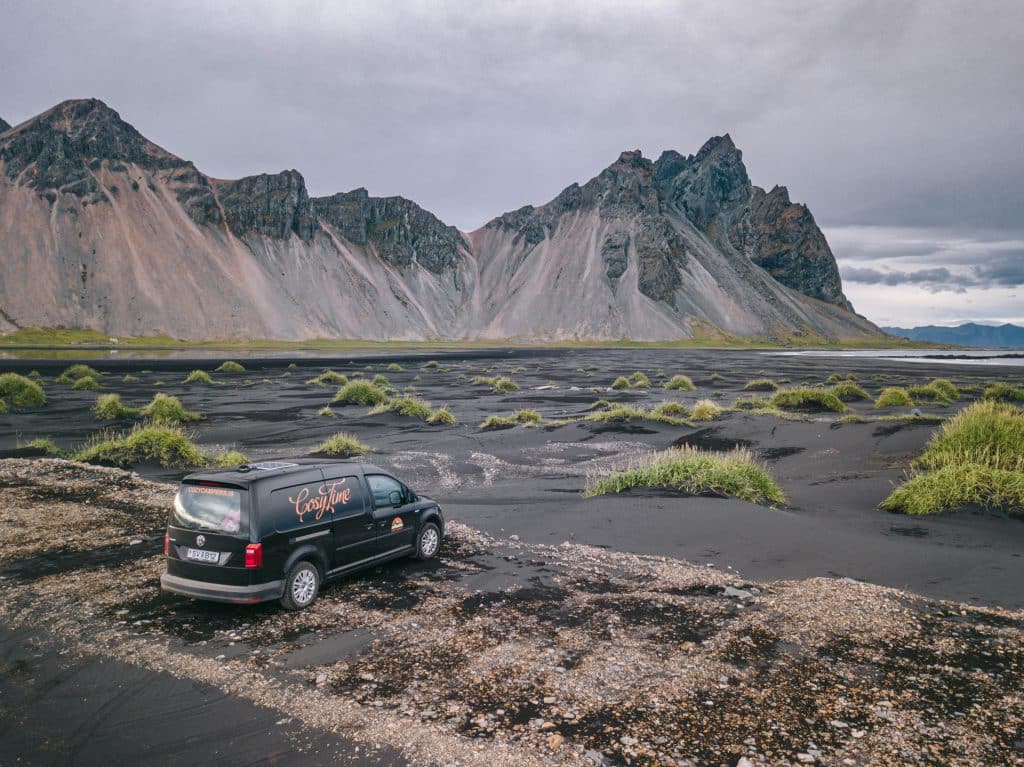 On the website of the Environmental Agency of Iceland, the rules of using tents are outlined. There it says that you need to ask for permission when you camp near places of human habitation or farms, if you intend to camp for longer than one night, or if the land is cultivated.
Iceland has identified 120 protected areas, which are classified according to the International Union for Conservation of Nature's guidelines. It is also illegal to camp in an area classified as protected.
If you intend to park your campervan outside organized campsites or urban areas you must always ask permission. Refer to the restrictions on marked camping grounds which are in a protected area, like Þingvellir National Park.
The only time you are permitted to camp other than a designated campsite is when you ask permission to do so in privately owned land.
When you leave the camping ground, please do not leave anything behind. Iceland's nature is very fragile, and we must all help to protect it.
Are campsites free in Iceland?
---
Most campsites have fees. There is a base fee for persons 16 years old and older, and children accompanied by adults can get in for free.
The fee could cover access to the campsite's amenities including hot/cold water, showers, toilets, sinks, and kitchen facilities. WiFi is sometimes included in the fee or available in a nearby restaurant.
Generally speaking, Icelandic campsites charge fees for electricity (hookup) and washing machines and dryers.
There is one known free campsite in Iceland. Gata campsite or Gata free camping does not have a basic fee—you can donate, but you'll have to pay to use the facilities.
How do you pay for your camping spot?
---
Camping in Iceland campgrounds is as straightforward as showing up at the camping area, finding your camping spot, and paying for it.
Not all the campsites in Iceland accept the same payment methods. But here are three major ways to pay for your camping spot:
Cash. Also prepare coins for the washing machine, dryer, and shower.
Credit or debit card. Bring cards with a chip and PIN in Iceland, as remote gas stations may require one.
Camping card. CampingCard is valid at participating campsites. Present the card when paying for the night.
Do you need a CampingCard?
---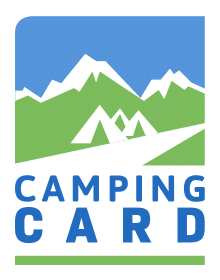 According to CampingCard, a person could pay 1.000 – 2.000 ISK for a night in a camping site.
Iceland Camping Card costs 179 EUR and offers a total stay of 28 nights for a family composed of two adults and four children under 16 years old.
But when is the purchase worth it?
If you want to simplify or skip calculating campsite fees every time. Note that the CampingCard does not include the lodging tax (accommodation tax) and fees for amenities.
If you are traveling in areas where the participating camping grounds are located. As of this time, it gives access to more than 30 campsites located in West Iceland, Westfjords, North Iceland, East Iceland, and South Iceland.
If you are traveling and camping in Iceland within the period of 1st or 15th of May to 15th of September. The CampingCard is not applicable for winter camping in Iceland and will expire every 15th of September, around the last days of summer campsites before they close.
When to Go Camping in Iceland
Camping in the land of fire and ice gives you two choices.
Summer Camping
Summer is undoubtedly the most opportune time to go camping in Iceland with its warm and long days. The sun never sets at least during the Midnight Sun phenomenon, which means more light to sightsee and explore Iceland.
What is summer like in Iceland?
Despite being the warmest time in Iceland, it is still cool. In Reykjavik, the average temperature in July is 12.5°C. The nice weather also means attractions are open and roads, including F-roads leading to the Highlands, are passable.
From hiking, whale watching, to attending festivals, there's plenty to see and do while camping.
The downsides to summer camping in Iceland are the crowds and the prices that come with peak season.
Winter Camping
Winter camping in Iceland rewards intrepid adventurers with the spectacle of the northern lights. The crowds are no longer around, so you can have more peace and quiet to yourself. Plus, the prices are lower this time around.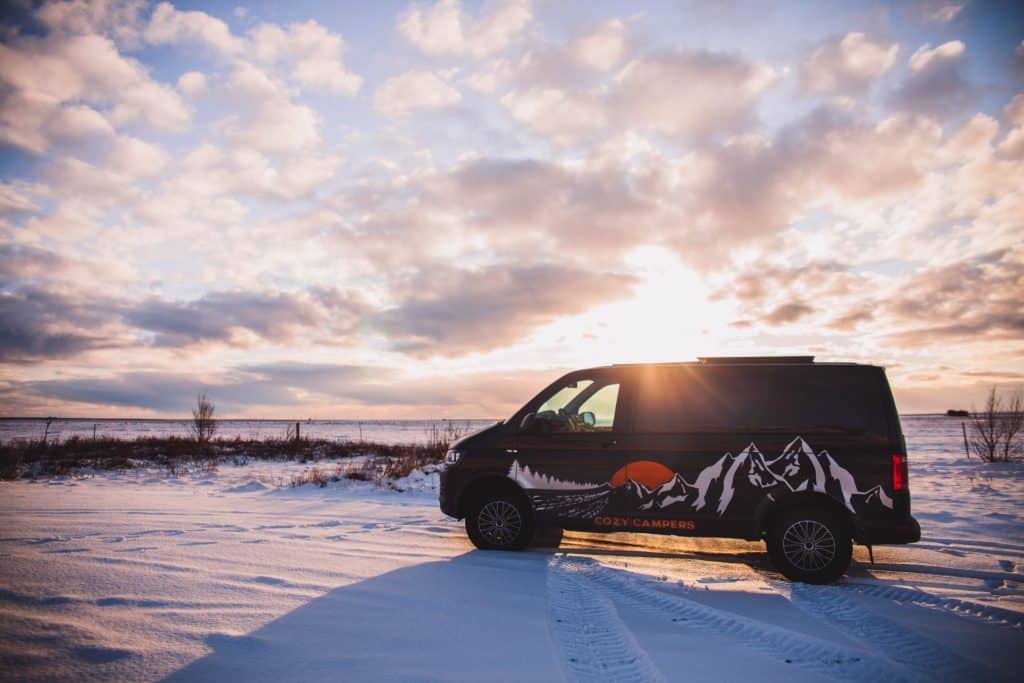 The biggest challenges to winter camping in Iceland are:
The weather. Icelandic winters are known to be mild. Nonetheless, the weather during the winter can change dramatically and drastically. What to look out for are wind, precipitation, and snow. Days are also shorter in the winter. 
The road conditions. Consequently, driving around Iceland during winter would be more challenging. F-roads are closed during the winter, and some roads may be impassable. Some businesses also halt activities for the time being. You have to be careful not to be stranded in an uninhabited place without supplies.
A campervan equipped for winter travel is the right fit for this undertaking. Do check with campervan rental companies for their winter rentals.
At Cozy Campers, we value your safety and recognize the risks of extreme weather conditions, so we are closed on 20 December to 1 February.
Do you need to book campsites in Iceland in advance?
---
Most campgrounds in Iceland don't require reservations. They also operate on a first-come, first-served basis.
That being said, you may need to book online when it's the high season, which is June to August. Securing your spot requires booking and paying for it first at certain campsites. Also check with campgrounds ahead of your travel to ensure they are open for the season.
Are campsites open all year round?
---
Quite a number of Icelandic campsites are open throughout the year, or as the weather and road conditions permit. Check our map to find out which campsites are open when you visit.
Majority of campsites in Iceland are open during the summer or around April to mid-September. Camping is at its peak during the months of July and August.
Then it's northern lights season in late September to March but also the coldest time in Iceland. Some campsites and places are not accessible during wintertime because of snowfall.
Camping grounds, if they are open in the winter, tend to have limited operating times and facilities. Some closed campsites do allow campervans to park in their parking lot in wintertime for free but without access to facilities.
What to Bring to Your Iceland Camping Trip – A Packing List
To give you an idea on what to pack if you go camping in a campervan, here's what a budget camper on Cozy Campers includes:
Gas stove with 1 free gas can
Cookware and kitchenware
Sink with running water
Refrigerator or cooler
Linens, pillows, and duvet
Heating system
Bluetooth radio/speakers
Extra battery
3x USB +12v charger
Tablet + free WIFI
What you would need to bring with you:
Travel documents
Driver's license and cards
Clothing for layers, swimwear and outdoor activities
Jackets
Socks and shoes / hiking boots
Hat / beanie
Scarf for winter
Backpack
Toiletries
Toilet paper
Towels
Sunscreen
Sleeping mask for summer
Sunglasses
Insect repellent
Food and snacks (e.g., chocolates, energy bars)
Reusable water bottles
Fire starter
First aid kit
Rain gear
GPS and map
Charging cables for devices
Camera and lens kit
Travel adapter for Europe
Camper upkeep like resealable bags, paper towels, and garbage bags
Wear waterproof and windproof shoes, clothes, and backpacks, regardless of the season. Also thermal everything, as they say, when it comes to winter clothing. Summer nights in Iceland can still be cold, so warm clothes remain a must.
Camping equipment and essentials for tent camping:
Tent and extra stakes
Sleeping bag
Sleeping pad
Camping pillow
Fleece blanket
Camping dinnerware
Head torch, flashlight, extra batteries
Camping chairs and table
You can also rent tents, sleeping bags, and other campaign equipment in Iceland.
To Recap
Are you all set for your camping trip in Iceland? Remember these points:
Camping in Iceland lets you connect with nature and enjoy the sights in a cost-effective manner.
Tent camping and car camping are options for camping in Iceland. Campervans make camping in Iceland easy, fun, and affordable. A camper provides you with a safe place to stay every night, while you follow the good weather wherever it takes you. It can be any of the great hiking trails one day, the geothermal pools the next day.
Camp only in designated campsites or with permission by the landowner. Use our map to find camping sites near where you are headed.
The weather is a major factor when considering camping in summer or winter. Always keep in mind the weather and road conditions.
Most Iceland campsites are open during the summer months. A few campsites are open parts of winter and still a number are open throughout the year. Inquire ahead.
Pack according to the season and intended activities and ever mindful of Iceland's weather.
Be safe. Travel with a full tank and sufficient food supplies. Contact 112 in case of emergencies.
Back to blog
---