Camper Rental Iceland
Book Your Camper
Your Happiness
is Our Business
If you're coming to explore "planet Iceland" and want an experience like no other, you've come to the right place! Cozy Campers offers a wide selection of quality, hand-designed campervans.
Benefits of renting a
Cozy Camper
· Free WiFi hotspot
· Free transport options
· CDW insurance included
· Unlimited milage
· Fuel discount card
· Free camper cleaning
· 24% VAT included
Tablet computer
in all our Campervans
For your safety and comfort,
all our campers come with a tablet that includes a hotspot with unlimited free WiFi as well as selection of apps to help you navigate your way around Iceland and so much more.
State-of-the-art
Heating System
Our campers have heated up beds, and to guarantee long-lasting heat throughout the night. All of our campers have an independent double charging system. For more info, check out "Winter Camping."
Be a part of the
Cozy Camper Family
When you rent a camper from Cozy Campers, you are supporting kids all over the world. We have teamed up with the ABC children's aid foundation, and our mission is to build a strong, Cozy family.
Premium Campers
Standard Campers
What Makes Our Campers So Cozy and Comfortable?
First of all, our campers have a very comfortable sofa that can be changed to a bed in only two seconds.
We installed windows and a sky roof In The Highlander Camper perfect for you to enjoy Iceland's amazing scenery.
Enjoy a multi-color mood light in the campers so you can choose a nice relaxing color or set it to party mode!
Forget the sleeping bags because we provide you with quality goose down duvets/comforters.
The reviews tell the whole story
Janie and Peter
We looked at tons of campers for our 7 day road trip around the ring road and Cozy is the BEST! Our van came with everything we needed (pots + pans, mini portable stove, running water, utensils, bedding etc) and the design is amazing. We were never once cold at night because the heating system is great and the blankets are very warm
Andrew
Birkir has built the perfect van. We had the 'Cozy Time' (manual / stick shift) for a ten day trip through the north in early winter. I've driven and owned vans in Europe, Australia, New Zealand, the U.S. and this is by far the best setup I've seen. Ingenious and thoughtful design has gone into the bed, couch, kitchen and storage.The van was also meticulously clean
Alice
If you are anything like us, you've probably spent way too long researching the many campervan options for your Iceland travels. KK has the cheapo, hostel versions... HC has the standard but isn't as comfy... when you finally arrive in Iceland, you'll see many other companies. However, Cozy is the best
Camping in Iceland 2023: Important Tips + Campsites Map
Ever feel like you need a bit of freedom in your life, maybe an adventure to shake things up in a good way? A place […]
May 15, 2023
Read more
Tips to Know Before Renting a Camper in Iceland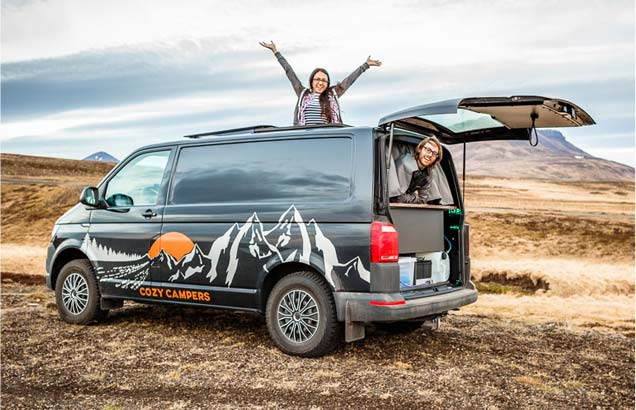 Renting a camper is one of the major decisions you'll have to make for your trip to Iceland. We have gathered answers to the most […]
November 20, 2022
Read more