We set ourselves a goal when we opened up shop; we did not want to be the biggest, we wanted to be the coziest. To make camper vans where people wanted to spend time together. Exploring Iceland in a cozy camper is something no one should skip!
What makes Cozy Campers special?
We want you to leave Iceland with a smile on your face, and one of the things we do for you is to pick you up for free within the Reykjavík capital area when you are going to pick up your camper van. We will also drop you off again after you drop off the car. And if that wasn't enough, you will also get a free Flybus transfer from Keflavík Airport to Reykjavík!
Cozy Campers have no hidden fees, everything you see on this site is what you get, and if that wasn't enough, we even clean the camper for you when you leave so you will not have to worry about that!
What makes our campers Cozy?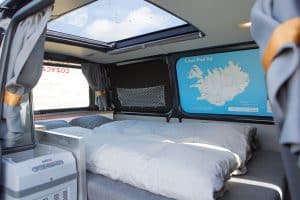 Our camper vans come equipped with blackout curtains for those bright Icelandic summer nights. The cozy sofa bed, linen, pillows and duvets make sure you sleep like a baby.
The camper vans also have a high-quality heating system, extra battery so you can charge up all of your electronics and a refrigerator/cooler. You also do not have to worry about buying a single-use grill or anything like that. A gas stove and a sink with running water are included in every camper van.
Go on and explore
For us, it is an easy question to answer if you should rent a camper van. It allows you to explore our beautiful country in the coziest way possible. You will be able to reach areas which you would not see on a regular day-tour, and you can spend as much time as you want at each location you stop at.
Back to blog
---