Volcanoes have shaped Iceland in more ways than one. The volcanic activity in the country has resulted in a land of hot springs, black sand beaches, geysers, and volcanoes including those lying underneath ice caps.
These dramatic sights and experiences bring tourists from all over the world to Iceland. They want to see as much of the volcanoes and volcanic eruptions that have elicited awe and wonder online. Icelandic volcanoes are fascinating subjects of admiration and power, sometimes pulsing with activity, oftentimes calm, but always unpredictable.
Iceland has in a way made volcanoes accessible if you think about seeing an erupting volcano and its red-hot lava coursing through it right before your eyes, immortalized by videos and pictures. Get to know more about Iceland as a top destination for volcano lovers and explorers.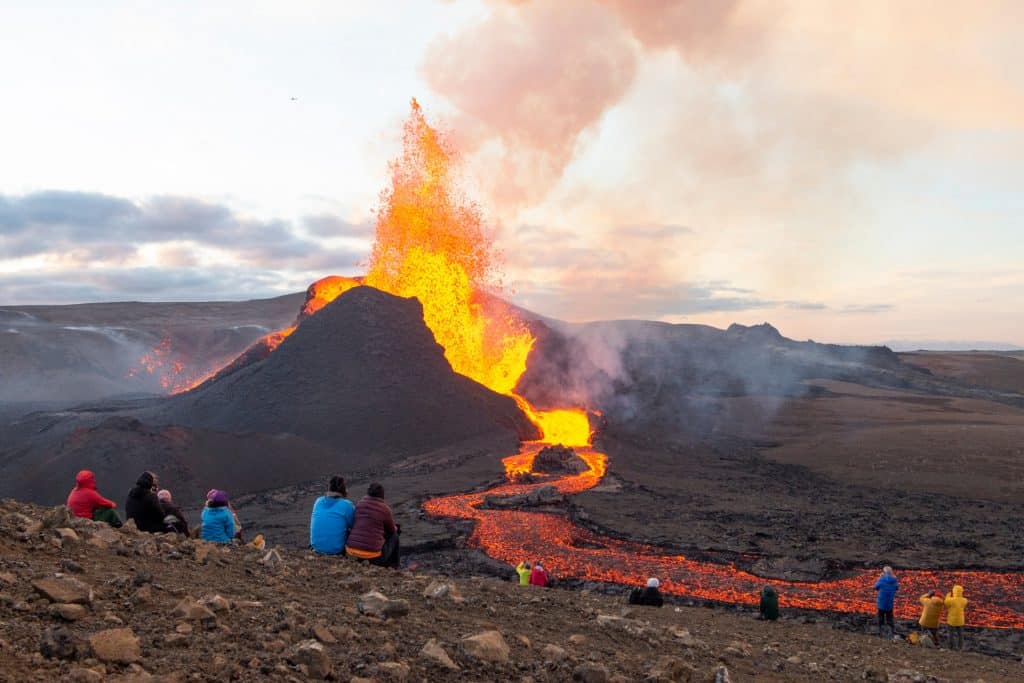 2023 Volcanic Eruption: The Youngest Volcano in Iceland
Iceland was once again in the news when a volcano erupted on July 10, 2023. Litli-Hrutur volcano is the most recent addition to Iceland's volcanoes, a small mountain located within the vicinity of Fagradalsfjall and on the Reykjanes peninsula.
The Litli-Hrutur eruption caught the world's attention, as images of it went viral. Plus, it was near Reykjavik, 30 kilometers from the capital to be exact. People still had memories of the Eyjafjallajökull volcanic eruption that upended global aviation more than a decade ago. The volcano produced vast ash clouds that hovered over Europe's airspace, rendering air travel unsafe for aircraft and people.
The volcanic eruption of Litli-Hrutur did not really disrupt air travel in and around Iceland, and the Keflavik Airport confirmed in the early days of the eruption that no disruptions to flights happened. But like in the Eyjafjallajökull volcanic eruption, an increased seismic activity was felt weeks before the Litli-Hrutur eruption began. A fissure about 900 meters erupted on the afternoon of July 10. The fissure eruption painted the sky orange, presenting a view of white smoke and bubbling hot lava.
Volcanic eruptions have occurred in Fagradalsfjall's volcanic system, and if you count this latest eruption, the area has had active volcanic activity for three years in a row. An expert said that the eruption at Litli-Hrutur may not be the last, according to this article. Volcanologist Þorvaldur Þórðarson believes that there could be two or three more volcanic eruptions in the area. The next eruption could occur a year later, per the expert.
HOW TO VISIT THE VOLCANO
The Litli-Hrutur volcanic eruption ended on August 5, 2023. Safetravel, which is the main source of safety bulletins on the 2023 eruption, also confirmed that the eruption is no longer active. Still, the Icelandic Association for Search and Rescue reminds everyone that the eruption site is not a safe area.
Volcano Nation: What Makes Iceland a Hotspot of Volcanoes?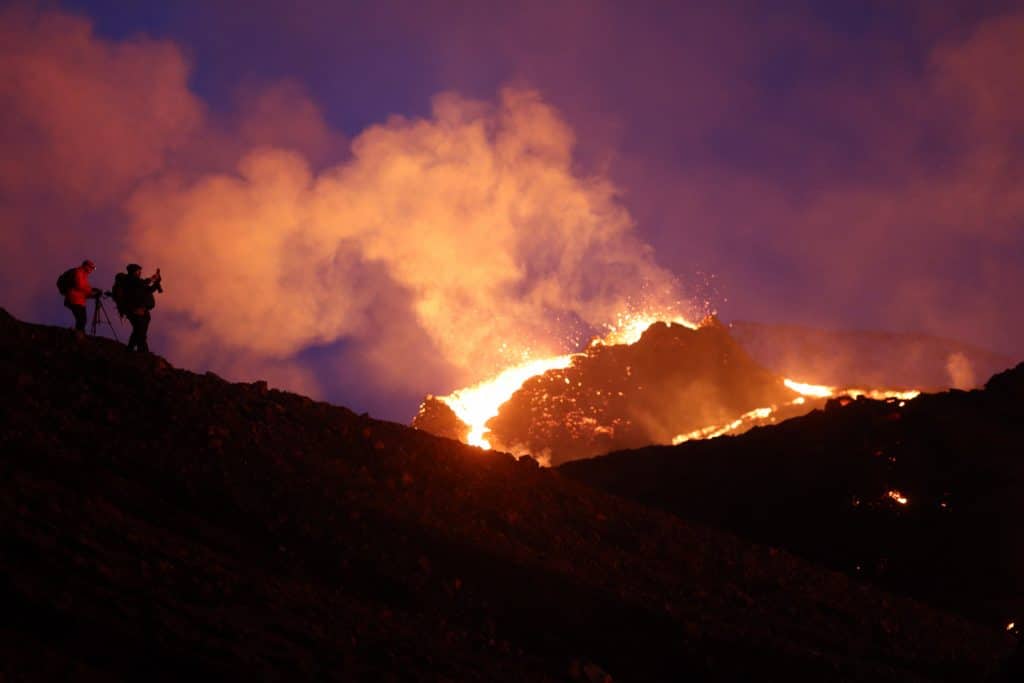 Why does Iceland have so many volcanoes? The nation is on the Mid-Atlantic Ridge with the submarine ridge running across Iceland. The Mid-Atlantic Ridge serves as the boundary between the North American plate and the Eurasian plate. Thingvellir National Park is where you can see the two tectonic plates—snorkeling at Silfra gets you between the two continents. Iceland is one of those islands that formed the mid-ocean ridge and jutted above sea level.
Volcanoes are formed in boundaries of tectonic plates like the Eurasian and North American tectonic plates. Watch how tectonic plates move here. Iceland itself was formed because of this movement and interaction between the two tectonic plates.
Iceland is on a hotspot or an area that is over a mantle plume. So aside from volcanic activity, Iceland is believed to have been formed because of this mantle plume. The mantle plume theory explains why some volcanoes form far from tectonic plate boundaries or in the case of Iceland, an excessive amount of volcanism along a mid-ocean ridge, as this scientific article discusses.
Just How Many Active Volcanoes Are in Iceland?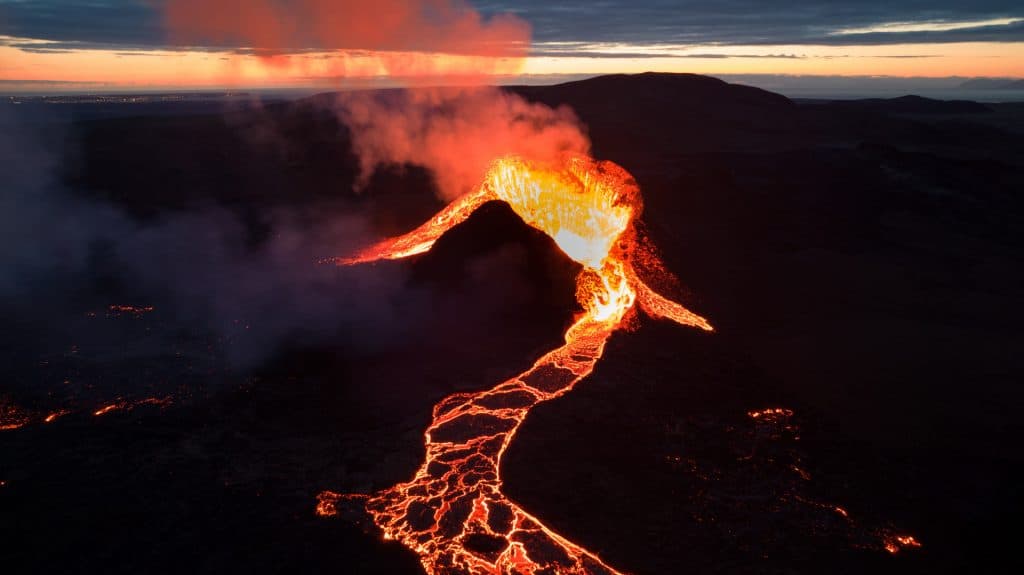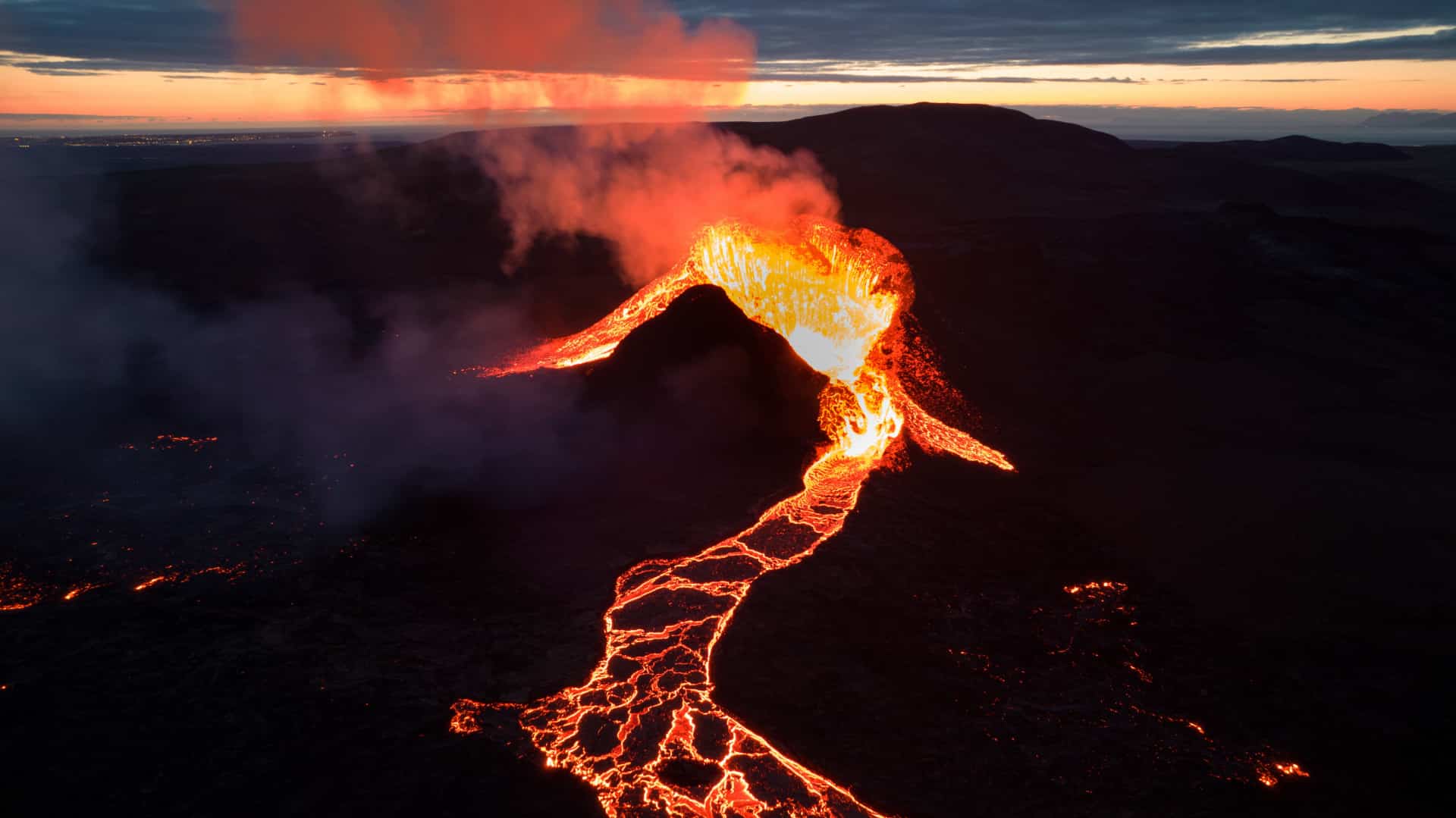 Iceland is among the countries with the most volcanoes that erupted in the last 12,000 years, according to the Smithsonian Institution National Museum of Natural History Global Volcanism Program.
The list ranks Iceland 10th with its 35 Holocene volcanoes. As one of the most volcanically active regions in the world, Iceland has 14 volcanoes that have been active since 1800 CE and nine volcanoes since 1950 CE.
Where Are Icelandic Volcanoes Located?
Its being over a hotspot and on the Mid-Atlantic Ridge has defined Icelandic volcanism. And this volcanism is primarily concentrated in the Neovolcanic Zone, which is mainly composed of the North Volcanic Zone, West Volcanic Zone, and East Volcanic Zone. The Reykjanes Volcanic Belt and the Mid-Iceland Belt are also part of the Neovolcanic Zone.
There's also the South Iceland Seismic Zone that connects the West and East Volcanic Zones and where the earthquakes in 2000 occurred.
This graphic shows the volcanic zones of Iceland, which include the Snaefellsnes Volcanic Belt and Öræfi Volcanic Belt, and some of Iceland's major volcanic systems.
Image source: Pinpin
Click this other map showing the volcanic zones and systems and their central volcanoes in Iceland.
Top 10 Icelandic Volcanoes: Remember these Names of Volcanoes in Iceland
The 2023 volcano eruption has put the small mountain of Litli-Hrutur on the map for most people and their to-visit-in-Iceland lists.
There are other volcanoes in Iceland that have made the nation's reputation as a leading volcano destination. Take a look at Iceland's volcanoes that shaped the country's volcano tourism in recent times, and find out the potential ways to visit the site.
1. Eyjafjallajökull
Stratovolcano Eyjafjallajökull in the south of Iceland erupted on March 20, 2010, but it was the subsequent eruption on April 14 the same year that caused greater impact. About 800 people had to be evacuated and countless flights in and around Europe had to be canceled because of the volcanic ash that spread miles.
The disruption to aviation—over 100,000 flights affecting 7 million passengers—is enough for the Eyjafjallajökull eruption to be forever remembered in recent history. On the lighter side, the correct pronunciation of this volcano [pronounced as AY-uh-fyat-luh-YOE-kuutl (-uh)] sparked friendly debates online at the time. The calmer (for now) Eyjafjallajokull volcano is a must-visit volcano in Iceland.
Majestic Eyjafjallajökull is loosely translated as an island's mountain glacier, as an ice cap covers the volcano. The glacier is connected to the Westman Islands inland-wise.
2. Fagradalsfjall
Fagradalsfjall volcano is located on the Reykjanes peninsula. The first eruption started on March 19, 2021 in the Geldingadalir valley due to fissure vents; the event was characterized by a crimson light in the sky with no eruption tremor detected. A new eruptive fissure opened in April, and the eruption lasted until September of the same year. The 2021 eruption site was near Reykjavik. While the volcanic eruption was treated as big news outside of Iceland, it was deemed a tiny eruption and accessible to tourists given the right precautions against hot lava and gases.
Fast forward to August 3, 2022, and nearby Meradalir Valley witnessed another eruption. The 2022 eruption site featured a fissure the size of three football fields, and the volcanic eruption lasted three weeks. The sites of these volcanic eruptions are accessible by hiking trails.
The latest volcanic eruption is believed to be within the same volcanic system, being counted as the third eruption in the vicinity. And so like the Litli-Hrutur site, the 2021 and 2022 eruption sites are accessible through hiking trails.
3. Hekla
Hekla is one of Iceland's most famous volcanoes. Its reputation goes as far back as the Middle Ages, when it earned the nickname "gateway to hell." Hekla is a very active volcano, such that eruptions occurred from 5850 BCE to 2000.
Its last eruption occurred from February to March 2000, but it was the volcano's 1947-1948 eruption that is considered to be one of the biggest eruptions in Iceland. This photo shows an erupting Hekla, described as an ocean of fire back at the time of the eruption that lasted from March 1947 through April 1948.
Rising 1,491 meters above sea level, Hekla is located in South Iceland. Its distinct elongated shape is due to repeated eruptions along its 5.5-km-long fissure, according to the Smithsonian Institution's Global Volcanism Program. One has described the stratovolcano as an upturned boat because of its summit ridge.
The Hekla volcano with its cloud cover (that may have been the origin of its name) is a striking sight and a hiking destination.
4. Katla
Katla volcano is one of Iceland's largest volcanoes, has a caldera with a diameter of about 10 kilometers, an area of 595 square kilometers, and an elevation of 1,490 meters. It is the central volcano of its own volcanic system and lies under the Mýrdalsjökull ice cap.
The volcano is located in southern Iceland and the country's East Volcanic Zone, which is also where Eyjafjallajökull lies. Ever since Eyjafjallajökull erupted in 2010, Katla has been closely monitored. The Katla volcanic system itself is one of the most active volcanic systems in Iceland, with 21 eruptions in the last 1,100 years, according to the Icelandic Met Office.
Katla's last major eruption was in 1918, but there were two at least uncertain eruptions that could be subglacial eruptions that happened in 1955 and 1999, respectively. The 1918 eruption caused a glacier-outburst flood or jökulhlaup resulting in the South shoreline being extended by approximately 4 kilometers.
5. Surtsey
Surtsey is an island born out of a volcanic eruption (or a series of eruptions). The Surtsey eruption, as it was called, occurred in 1963 and lasted until 1967. This volcanic island is located in the Westman Islands (Vestmannaeyjar).
The island of Surtsey is a UNESCO World Heritage Site and not open to the public. This is to control human interference and let nature take its course on the volcanic island. Surtsey is like a natural laboratory with scientists as the only allowed visitors. Tourists can still view the volcanic island from the Westman Islands.
Surtsey is also considered Iceland's youngest shield volcano. The mostly submarine Vestmannaeyjar volcanic system, which consists of up to 80 volcanoes, is responsible for the birth of Surtsey and the formation of a volcanic cone following a 1973 eruption on Heimaey Island. Watch how the island named after an Icelandic fire giant is born. See pictures of Surtsey here.
6. þríhnúkagígur
Þríhnúkagígur volcano in west Iceland may as well be the only volcano that lets you into its heart. With its name also spelled Thrihnukagigur, it is a dormant volcano and last erupted some 4,000 years ago.
The marvel of the Thrihnukagigur volcano is its magma chamber with a depth of about 213 meters (or about two Hallgrímskirkja which is 74.5 meters tall). The volcano didn't collapse after the chamber was emptied out of magma, believed to have retreated underground and cooled down.
You will descend from a narrow opening into the volcano via a lift—you'll need to join a guided tour for this experience. Inside the volcano you'll be given about 40 minutes to see for yourself its center of activity.
Anyone who is at least eight years old and has moderate fitness level can participate in the hike to þríhnúkagígur, passing a lava field to and from the volcano. The location of this Icelandic volcano, which is 30 minutes from Reykjavik, makes it very accessible.
7. Grímsvötn
Grimsvotn is classified as a subglacial volcano, as it lies underneath Europe's largest glacier mass, the Vatnajökull ice cap. The Grimsvotn volcano last erupted in 2011 with a VEI (volcanic explosivity index) of 4 and has over 70 eruptions happening in almost every decade, making it the most frequently erupting volcano in Iceland.
Iceland's most active volcano is the central volcano of the Grimsvotn volcanic system in which the volcanic fissure Laki is part of. One can't simply not talk about the Laki eruption (June 1783 – February 1784) and its widespread impact. The fissure eruption produced basaltic lava and volcanic gases like sulfur dioxide that in turn caused acid rain, leading to the contamination of soil, and the Laki haze that was reportedly seen from Iceland to Syria. In Iceland alone, 22% of its population died of famine or disease resulting from the impact of the volcanic eruption.
Grimsvotn is located in Vatnajökull National Park. Because it lies below the Vatnajökull, the best way to see Grimsvotn and survey its surrounding area is above land. There are airplane tours for this volcano in Iceland.
8. Askja
Askja is a volcano located in the Central Highlands and part of the Vatnajökull National Park. It is the central volcano that makes up Dyngjufjöll volcanic massif.
The stratovolcano last erupted in 1961, but its eruption in 1875 was of particular note. The 1875 Askja volcano eruption was considered the third largest silicic explosive event since the settlement in Iceland. The event also resulted in the formation of Öskjuvatn, a lake in the crater of Askja. Interestingly, it was the massive eruption in 1875 that made Askja's existence known.
The environment at Askja is otherworldly with its crater, lava field, and moon-like surface. This environment and geology of Iceland in general became the perfect training ground for NASA astronauts for the Apollo mission. The geology trip to Iceland happened in the years 1965 and 1967.
To visit Askja and the noted sights around it, you'll need a 4×4 vehicle to access the Highlands in the summer or when F-roads are open. Then go on a hike taking any of these hiking trails around Askja.
9. Bárðarbunga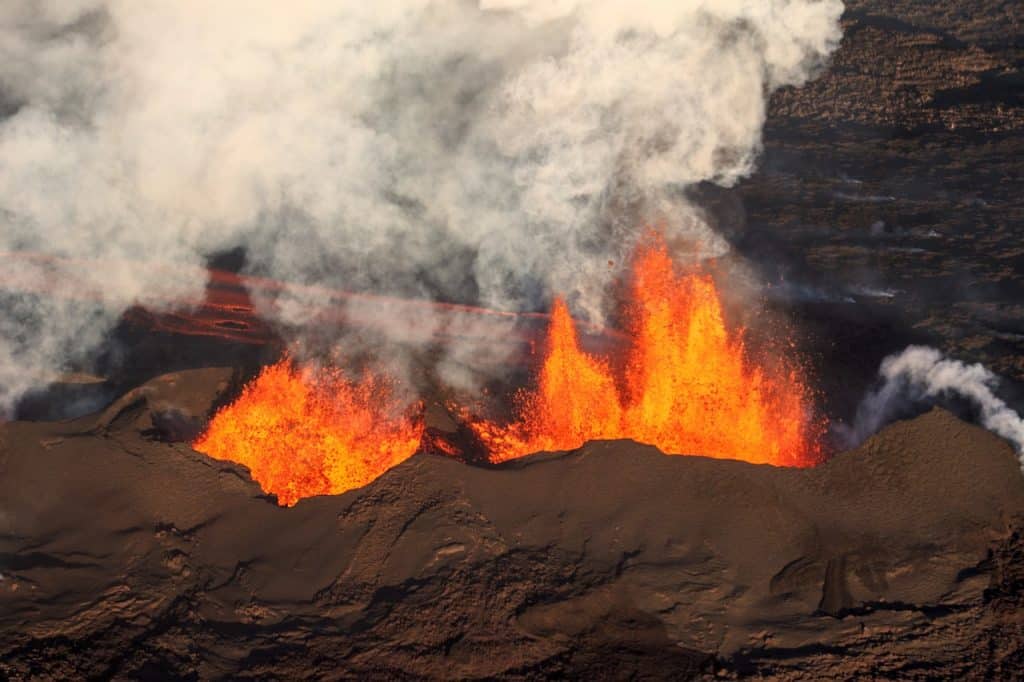 Bárðarbunga is one of the important volcanoes in Iceland. It is one of the ten volcanoes belonging to the Vatnajökull volcanic region—the national park has an area of 1,400,000 hectares or nearly 14% of Iceland. The stratovolcano is also the second highest peak in Iceland, rising 2,009 meters above sea level. More importantly, the volcanic system with Bárðarbunga as the central volcano is the longest one in Iceland.
Records show that Bárðarbunga has about 44 confirmed eruptions. Its most recent eruption occurred in August 2014 to February 2015, whereby 47,000 earthquakes were recorded before, during, and after the event. The intense seismicity included a 5.4 magnitude earthquake detected near the volcano's caldera rim. Also noted was the high sulfur dioxide emissions from the volcano in September 2014 that affected Iceland and certain parts of Europe.
The Bárðarbunga volcano has been under close watch owing to its active history. The notorious volcano attracts adventures with options including self-drive and guided tours.
10. Öræfajökull
Last but not the least on our list of famous volcanoes in Iceland is Öræfajökull. The volcano holds two titles: Iceland's largest volcano and highest peak (Hvannadalshnúkur is found on the volcano's northwestern rim), with an elevation of 2,110 meters.
The Öræfajökull volcano can be found on Iceland's South Coast known for its black sand beaches, waterfalls, and the glacier where the volcano lies underneath. While the volcano has not erupted since 1727-1728, the activity in the volcano including back in 2016 is under monitoring.
The other time Öræfajökull erupted was in 1362. This eruption is noted because it's one of the largest eruptions in Iceland (and in terms of eruptions in all Europe, second to Mount Vesuvius), and following the eruption, the area came to be known as wilderness or wasteland (öræfi). The first-known and last eruption at Öræfajökull are considered explosive eruptions causing, for example, major jökulhlaups and heavy tephra fallout, according to the Icelandic Met Office.
The subglacial volcano is part of the Vatnajökull National Park and is the eighth step of the Volcanic Way. Glacier adventures and activities await you there.
What Are Tourist Eruptions?
According to this Visit Iceland article, a tourist eruption refers to a minor eruption easily accessible by anyone. The article cited the 2021 eruption in Fagradalsfjall as an example, whereby locals and tourists flock to the site instead of supposedly staying away from it. To be fair, the eruption site was deemed pretty safe.
Are Volcanic Eruptions in Iceland Dangerous?
Volcanic eruptions in Iceland exhibit varying intensity and hazards, based on the signs leading to the eruption and past behavior of the volcano. Volcanic eruptions occur anytime and tell-tale signs such as earthquakes are closely monitored.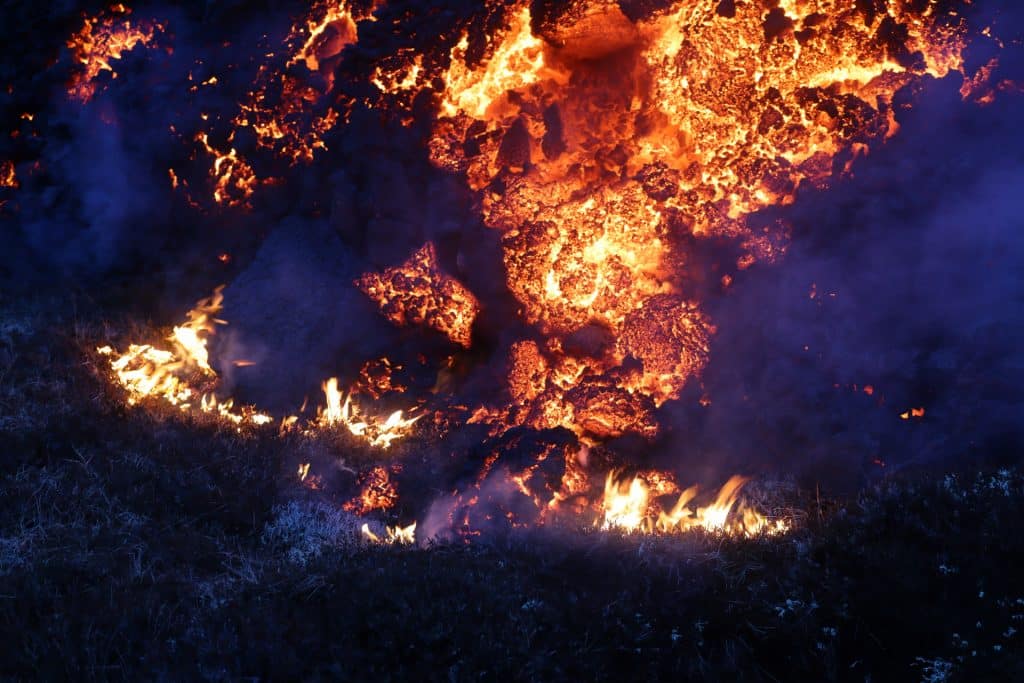 Iceland has been actively monitoring the status of its major volcanoes, even before it entered into a new volcanic era. Live feed of the 2023 volcano eruption site has been set up, for one. On the Icelandic Met Office's website, you'll find real-time information such as seismicity and GPS on the main Icelandic volcanoes:
Bárðarbunga
Eyjafjallajökull
Grímsvötn
Hekla
Katla
Reykjanes peninsula
Öræfajökull
Safety is a top priority regardless of whether it is a minor eruption, and for tourists, heeding safety bulletins is a must. As the situation could change rapidly, authorities could close off an eruption site anytime it is not deemed safe for anyone to be onsite.
You won't likely find people living in close proximity to a volcano in Iceland for reasons such as the past eruption causing destruction and altering the area rendering it rugged or unsafe for human habitation.
Is It Safe to Visit Iceland's Volcanoes?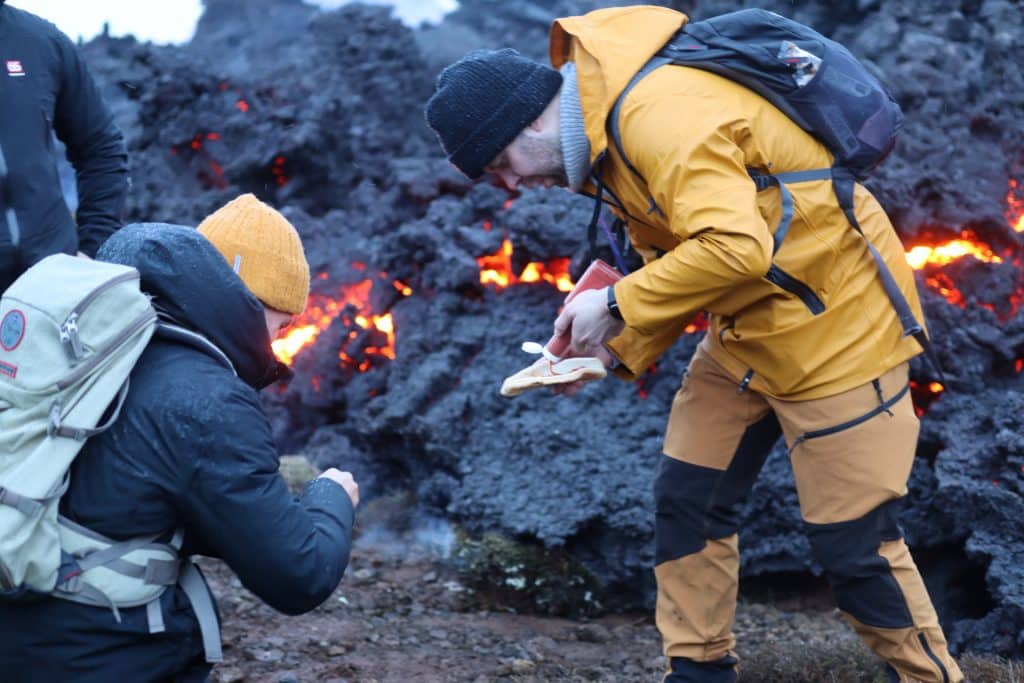 It is, with the right preparation and information. Preparation is particularly important for volcanoes that have recently erupted like Litli-Hrutur or have shown volcanic activity. Active volcanoes like Hekla and Katla are actively monitored, and one should heed expert advice prior to hiking to the summit.
While there is no active eruption onsite, follow the safety precautions when visiting Litli-Hrutur volcanic eruption:
Don't walk on the lava. Also be wary of black surfaces – black crust is thin and hot and can crumble, risking one falling through.
Consider your physical fitness. The hike to the area is approximately 20 kilometers or six to eight hours long (including the return trip but excluding the actual time spent on the site). Children and dogs can be exposed to gas pollution and not recommended to be in the eruption area.
Dress appropriately: hiking shoes and warm clothing that includes waterproof and windproof outerwear.
Bring food and water, as well as a fully charged phone.
Stick to marked trails.
Be aware of gas pollution following the eruption. Because gases can go undetected even by scent, leave the area when you feel uncomfortable.
Minimize gas exposure by walking toward the eruption site "with the wind at your back and in your face" on your way back. Check the wind forecast for that time of the walk in order to choose a walking route appropriately.
Park at a designated area. Off-road driving is not allowed.
How Should I Responsibly Enjoy Volcanoes in Iceland?
Practice responsible tourism and volcano etiquette. Protecting the natural environment surrounding the volcano goes without saying. Whether it's a new eruption site or any volcanic site in Iceland, remember the following:
Lava is protected by the Icelandic conservation law. Leave lava as it is, free of trash, writing, or anything that could damage it. In fact, leave no trace, wherever you are in Iceland.
Don't take anything, like rocks, as souvenirs.
Be cautious where to walk on. Just because the surface looks cold and safe to tread on, doesn't mean it won't crumble. Ask ICE-SAR personnel around the site for guidance.
Follow the rules and avoid engaging in unruly behavior that could put yourself and others at risk.
Learn about the volcano to prepare accordingly, like checking out the volcano's information center.
How Does Iceland's Volcanoes Benefit Iceland and Its People?
The geological activity behind volcanoes and the volcanoes themselves have shaped how people live in Iceland. Here are two ways that the volcanoes have created positive impact for Iceland:
Tourism
The 2010 eruption of the Eyjafjallajokull volcano has been widely credited to have, as one article's headline puts it, erupted Iceland's tourism. The article discusses how Iceland was able to turn things around with the help of the media mileage generated by the eruption, in the wake of the 2008 financial crisis and a drop in leisure travel. In 2016 Iceland recorded a 7.2% GDP growth with booming tourism as one of the main drivers of this growth. Iceland's short-term indicators in tourism as of June 2023, including air traffic statistics and car rentals are looking great. The unpredictable volcanoes draw people to Iceland, a land of many surprises.
Geothermal energy
Iceland is a leader and pioneer in geothermal energy, a clean and renewable energy. According to the National Energy Authority of Iceland, the country's geothermal energy facilities are responsible for generating 25% of the total electricity production. So where does this geothermal power come from? The answer takes you back to Iceland's geology. Aside from homes where geothermal energy is used for electricity and space heating, the natural geothermal heat is utilized in swimming pools. The Blue Lagoon is the foremost geothermal spa in Iceland, a soak in its geothermal saltwater almost a must. The health and geothermal spa initially came about as a side-product of the Svartsengi Power Station, when a lagoon of bluish water was formed and residents bathed in it.
How to See Volcanoes in Iceland?
How to get there
By air. Volcanoes are sometimes best seen from above, as you have a bird's eye view of them covered in ice and their unique surroundings. Helicopter tours are available in Iceland, giving tourists aerial views of new eruption sites including any actual flowing lava, volcanic landscapes, nearby landmarks, even opportunities to land on a volcano.
By foot. A volcano hike gives you a good feel of the terrain and lets you take in as much of the scenery leading to the site. Just be aware of the hiking difficulty or the length of the journey to be well-prepared and equipped.
By car or camper. Either you ride a bus or rent a vehicle to arrive at the starting point of the hiking trail. The Highlands, for example, require that you rent a 4×4 to take on F-roads. Renting a campervan saves time and makes you more agile while enjoying some conveniences on the road and at the campsite. Check out this map for camping sites in Iceland.
How to prepare for a volcano hike in Iceland
Going to Iceland to check out volcanoes like Fagradalsfjall volcano this summer? Remember these tips:
Do your research, how far and long the hike is or how physically fit you need to be. Find the most accurate information on the site. If you are joining a volcano tour, check its policies and guidelines.
Wear Ws: warm clothing and waterproof and windproof outerwear.
Wear sturdy hiking shoes.
Consider other hiking gear to enhance comfort and safety, like a hiking pole and head lamp.
Bring food, water, a fully charged phone, camera, or spare clothing.
Take a daypack carrying all your essentials.
Before You Go Visit Volcanoes in Iceland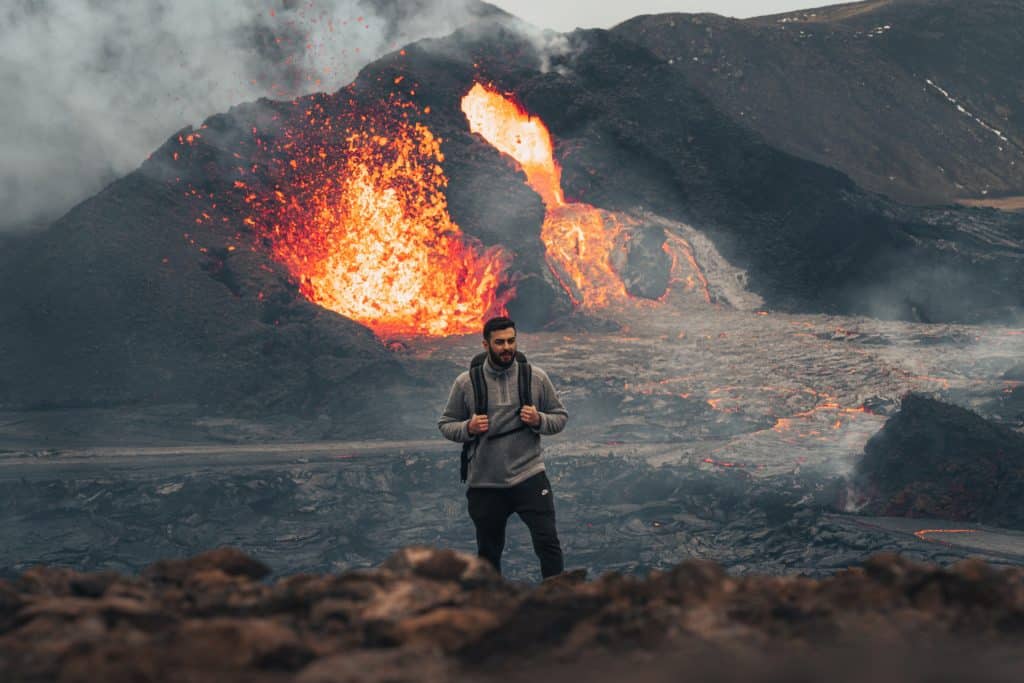 Here's a recap of this guide's main points:
Iceland's location makes it a place of many volcanoes, including 30 active ones. It is one of Earth's most volcanic regions.
These volcanoes are located throughout Iceland, including the Highlands. Check out the various maps in this guide.
Hekla, Katla, and Eyjafjallajökull are among the popular volcanoes in Iceland.
Lava fields, lakes, and glaciers are some of the sights you'll encounter when you visit a volcano.
Volcanic eruptions in Iceland can be dangerous, keeping in mind the volcano's current activity and last eruption.
Check real-time information and safety alerts from reliable sources, especially on recently erupted and active volcanoes in Iceland.
Whether you are hiking to a volcano or going down to its magma chamber, follow safety guidelines and observe proper volcano etiquette.
Do your research, including transportation, clothing, and things to bring for your volcanic hike.
Iceland's volcanoes contribute to Iceland's economy through tourism and power generation.
Off you go! Have a grand time exploring Iceland's fascinating volcanoes. Check out our campers to take you to volcanoes and other sights in Iceland. Don't forget to tag us in your posts.
Back to blog
---