Iceland is one of the most volcanically active islands in the world and many of these volcanoes are covered with hundreds of meters of glacial ice which is produced by large amounts of snowfall. This combination of volcanoes and glaciers is relatively unique in the world and so you will find very bizarre formations and contrasts within this intriguing mixture of ice and fire. The glaciers of Southern Iceland are very close to the ocean so it is normal to hear sea birds calling out and you can watch them glide overhead whilst walking around in the alpine environments here.
Cozy campers have asked Glacier and Volcano Expeditions a few questions to help travellers to decide on how to visit an Icelandic glacier.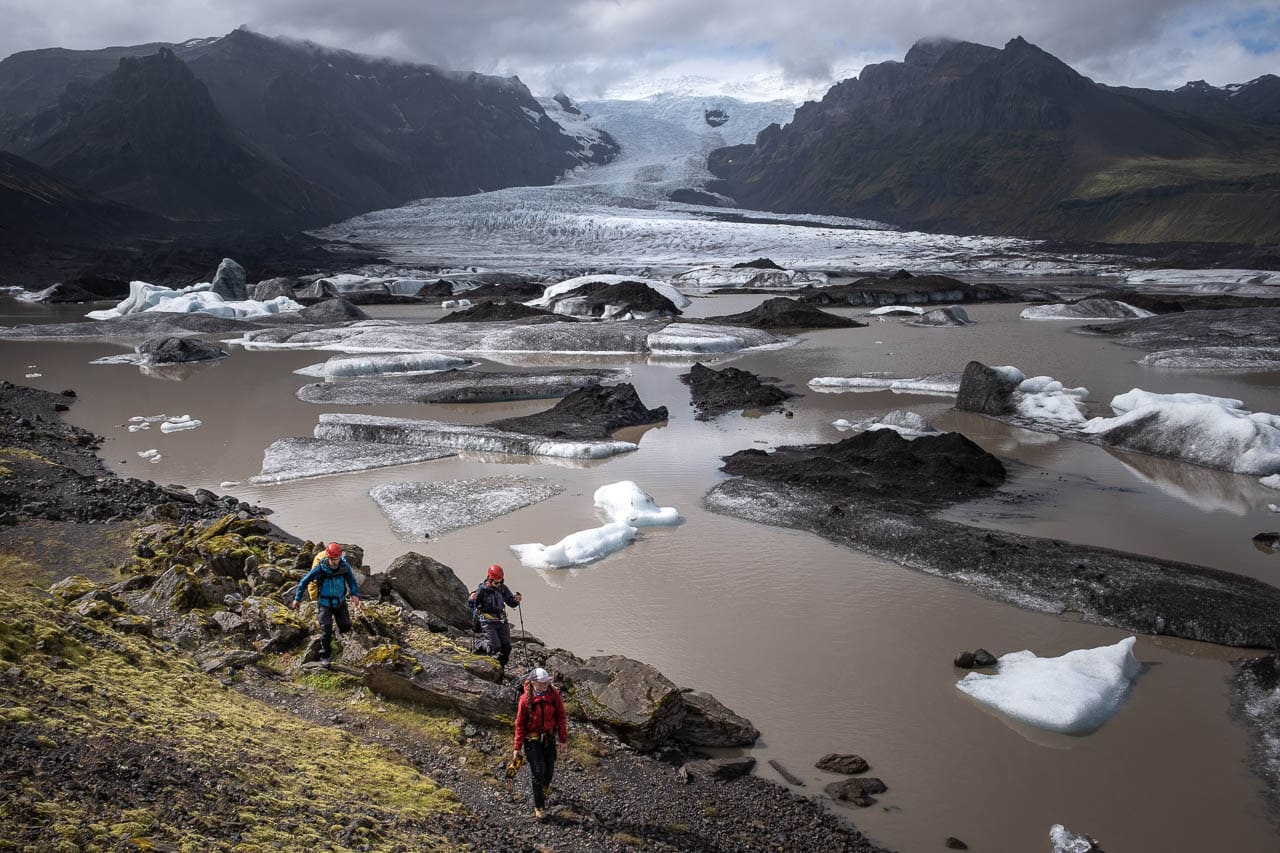 Where is the best place to visit a glacier in Iceland?
Vatnajökull National Park is home to the largest ice cap in Iceland with Skaftafell being the epicentre for glacier hiking options. Skaftafell is home to many glacier outlets that are accessible by foot from the main road which allow guides to easily introduce visitors to the ice. The highest volcano in Iceland, Öræfajökull towers above and is an impressive sight when standing in the middle of an outlet glaciers as you will see the ice flowing down from far above. Being so close to the ocean is special because when you are hiking on some of the glaciers you can actually look out and see the waves crashing on the beach. Vatnajökull National Park is also home to the famous Jökulsárlón glacier lagoon and its majestic diamond beach which is a must-see when visiting Iceland.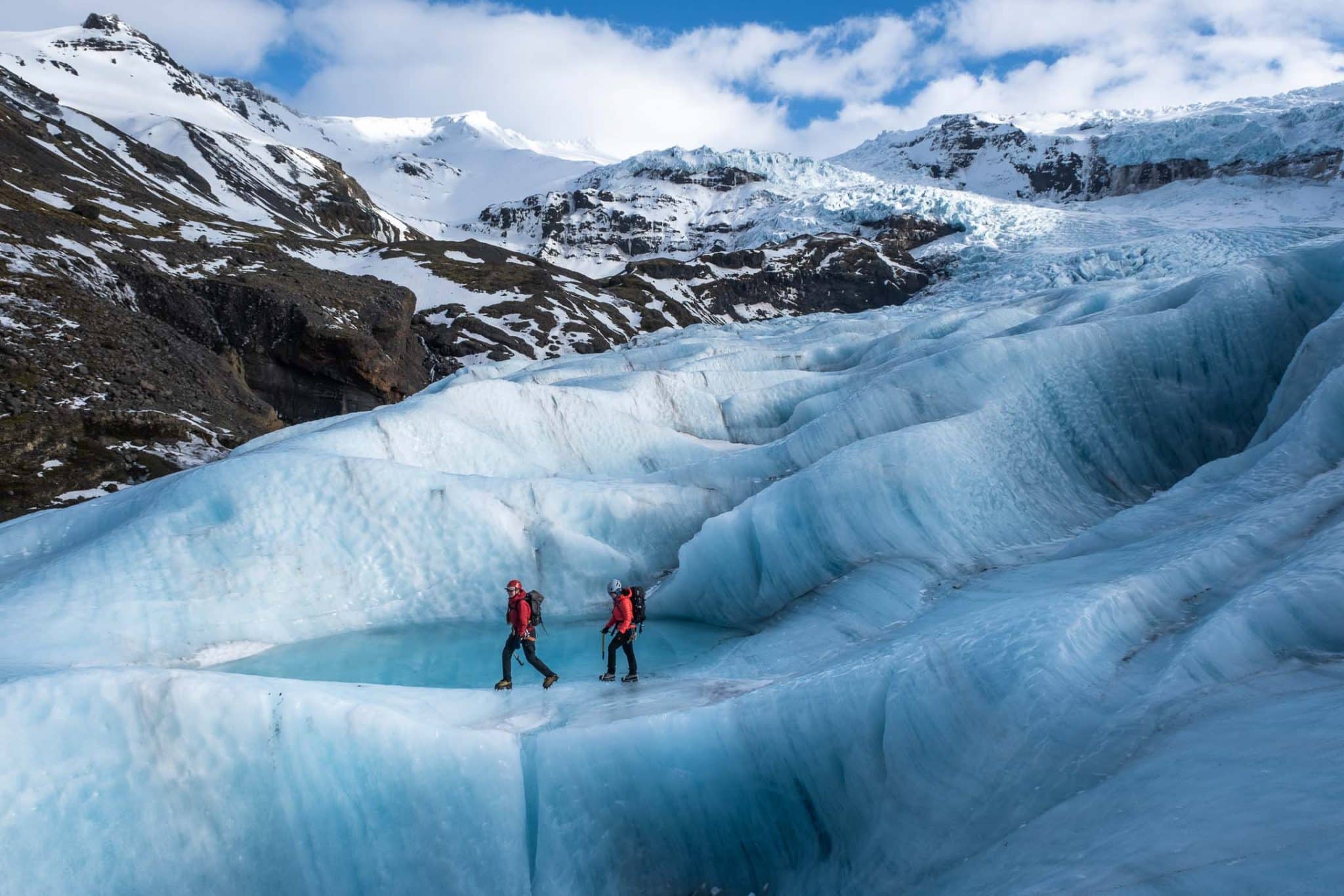 Where is the best place to camp in a Cozy Camper near the glaciers?
Skaftafell! We recommend sleeping in your Cozy Camper at either the campground in Svínafell or the Vatnajökull National Park campground in Skaftafell. Both of these options are cost effective and provide a peaceful countryside vibe. Toilets, showers and kitchen facilities are provided. In addition to beautiful surroundings the trailheads to the following Skaftafell hikes are near to these campgrounds: Svartifoss waterfall, Morsárdalur/ Kjós valley hikes, and the Kristínartindar mountain hike.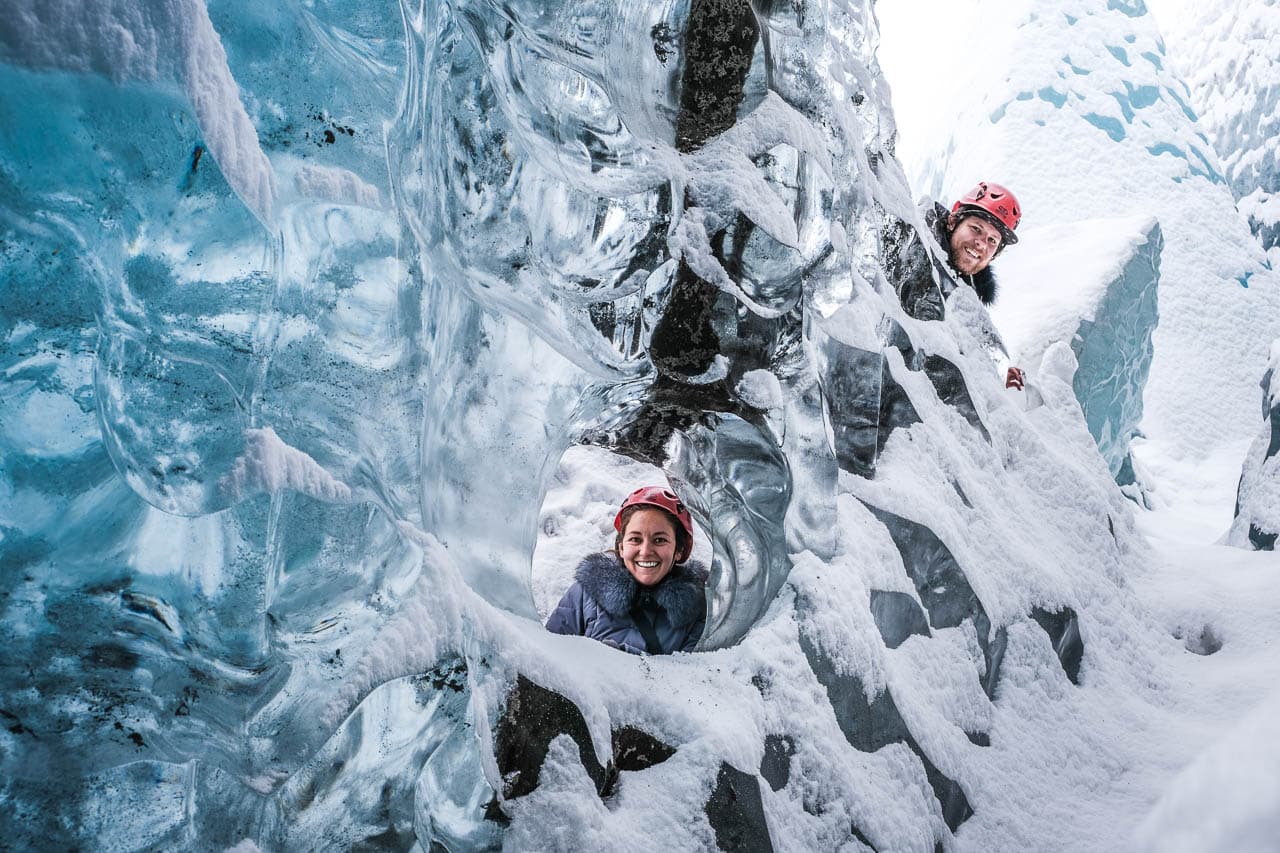 When are the glacier tours available?
All year round! Glacier hikes and ice climbing tours are available all year, however dedicated ice cave tours are mainly only available during the winter months. The best time to go hiking on a glacier is in summer time as the weather is usually nice and warm and the days are long so you will also have plenty of time to do other activities before or after your tour.
How do I choose between the different glacier tour options?
The easiest way to decide on what glacier tour to choose from is to break it down into the type of traveller you are. If you are athletic and are looking for a challenging glacier experience we would recommend considering an Ice climbing Tour (if you are not afraid of heights). If you would prefer to take a slightly more relaxing approach but still want to maximise your glacier experience by seeing as many interesting features as possible (and having the best photography potential) we would advise a longer glacier hike of around six hours. The six hour option provides you with the opportunity to have your lunch on the ice, try ice climbing, search for new features including caves and have enough time to absorb the incredible beauty of your surroundings. Finally, if you are on a strict time or budget limit or you wish to take an easy and relaxing tour the shorter three hour option may be best for as you still get to experience hiking on the glacier ice.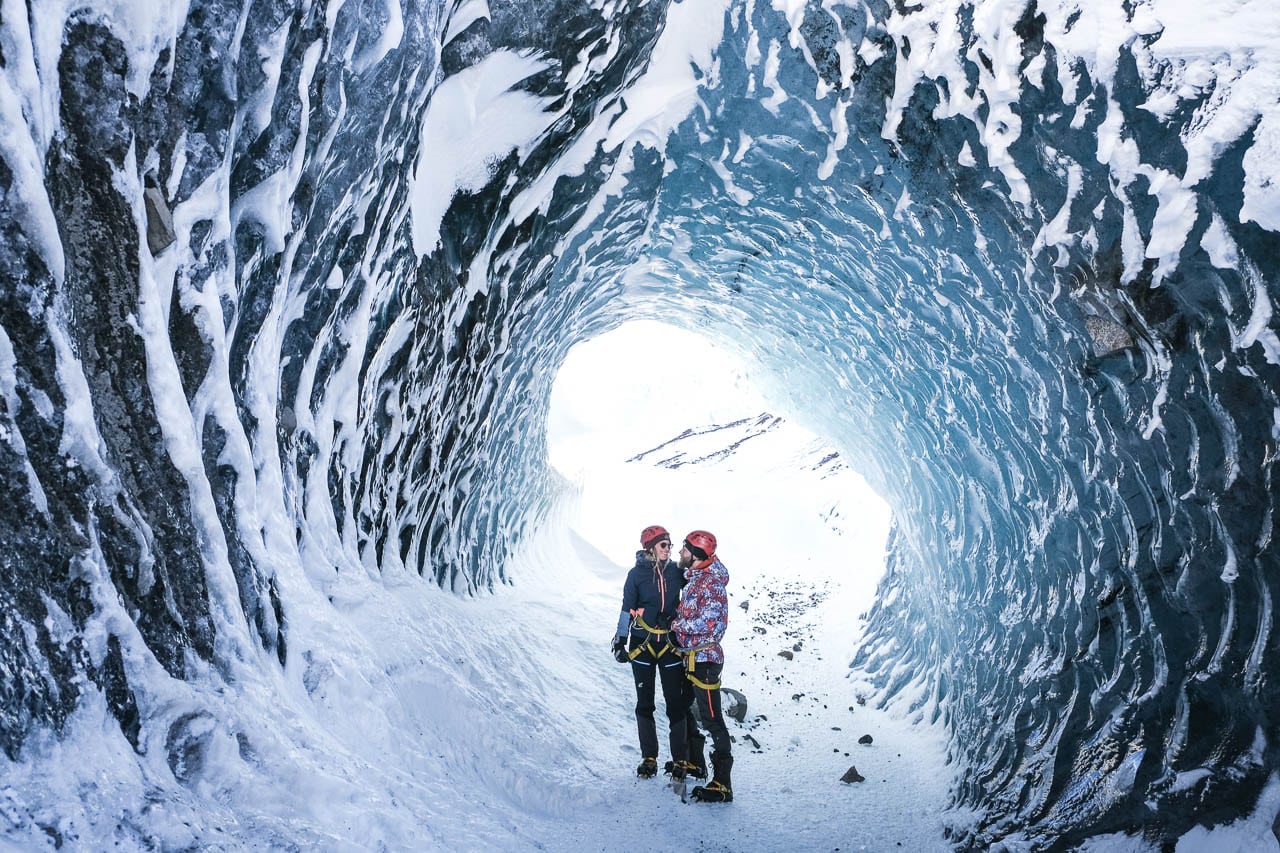 How should I be prepared for a glacier hike in Iceland?
First and foremost it is important you inform your guide of any pre existing medical conditions such as asthma or ankle injuries etc. Hiking on glacier is relatively strenuous even on the "easier" hikes, so if you are not used to hiking or you have a low fitness ability then perhaps you should contact the guide and discuss your options. Secondly, you will need to arrive at the meeting location with the adequate clothing for a day in the mountains. Taking a waterproof rain jacket is mandatory, as are sturdy hiking boots. Rainproof pants are highly recommended and it is important that people arrive with quality outdoor clothing that will keep you warm and not absorb water. Synthetic hiking trousers and a thermal base layer for your upper body is a great combination. Don't forget to bring a hat, gloves, and sunglasses!
What about kayaking on a glacier Lagoon?
Paddling amongst volcanic floating icebergs in a very unique opportunity as Iceland is the only country in the world offering these tours. There are fantastic environmentally friendly glacier kayaking options in Skaftafell such as the Glacier Kayaking Iceland tour. This 3 1/2 hour tour leads you on a hike to a glacier lagoon, where you will kayak in between icebergs and followed with paddling down the glacier river right back to the starting point. For the really adventurous folk who want the ultimate adventure, the Glacier Hike and Kayaking Combination is our recommended tour option for you!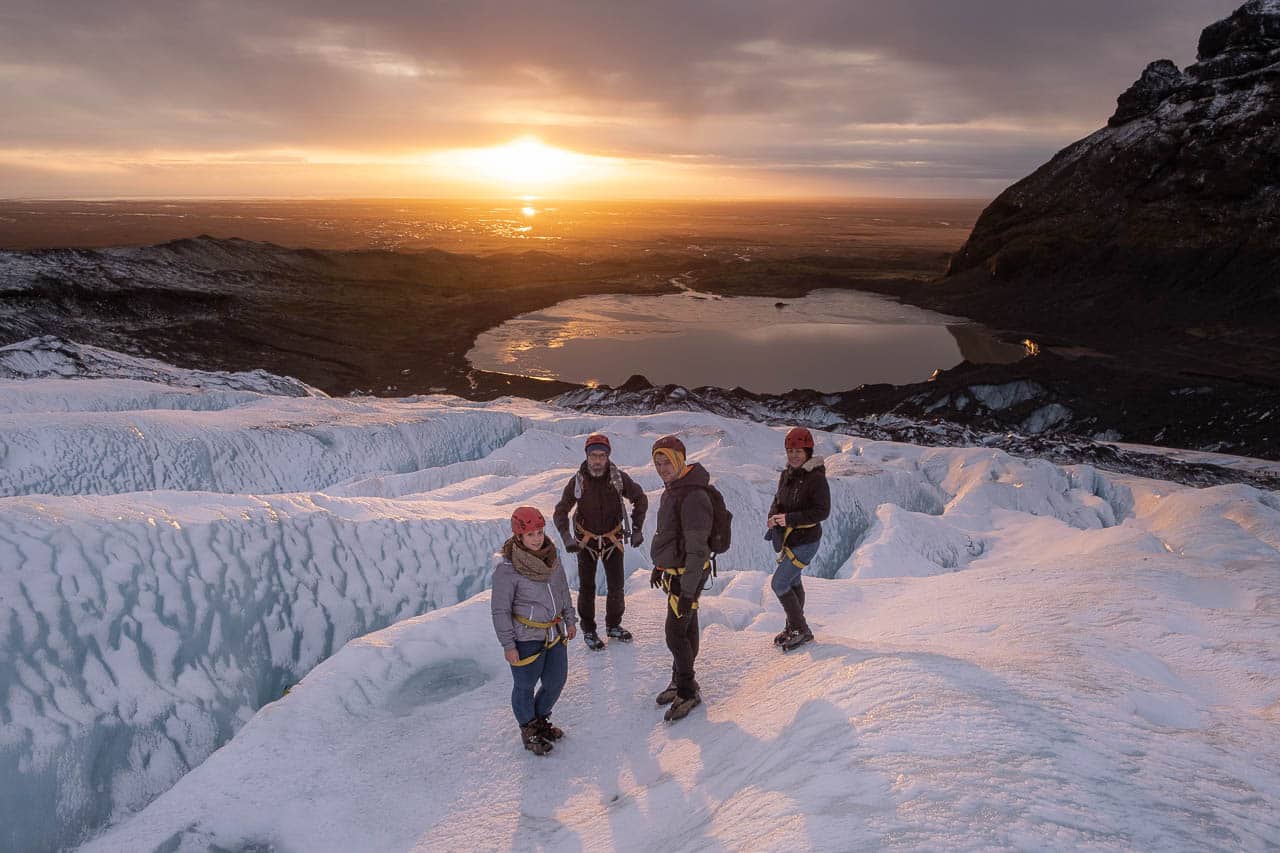 Where can I find more information on glacier hiking in Iceland?
Check out The best glacier tour guide to Iceland which is a comprehensive guide to all things glacier hiking in Skaftafell. For any further questions you can contact Glacier and Volcano Expeditions.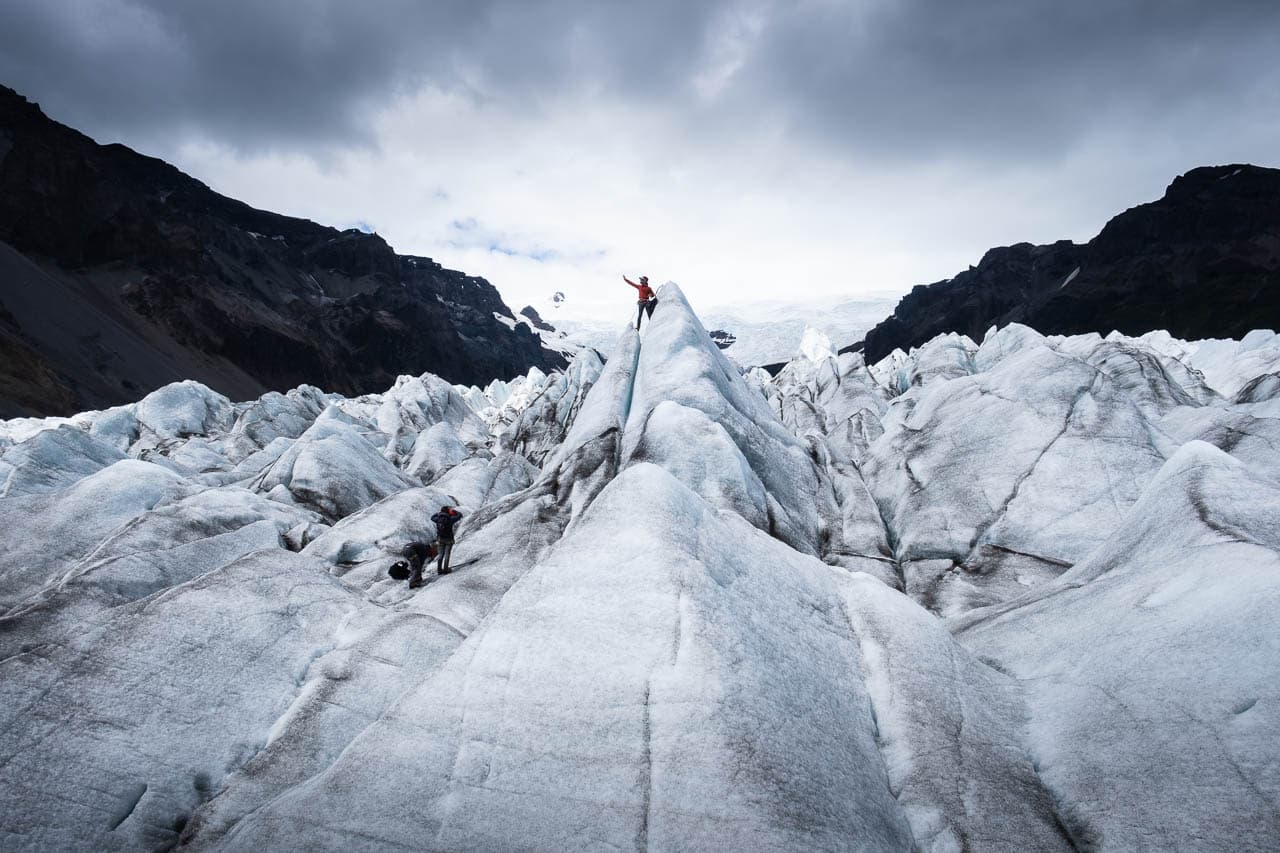 Which guiding company is best to book with?
There are many to choose from and we would recommend searching around and checking out the smaller family run businesses. An owner operator style guiding company will provide a personal experience tailored to suite your style of adventure. We also recommend considering eco friendly tours that do not utilise motor vehicles within the national park or create greenhouse gasses to conduct their tours.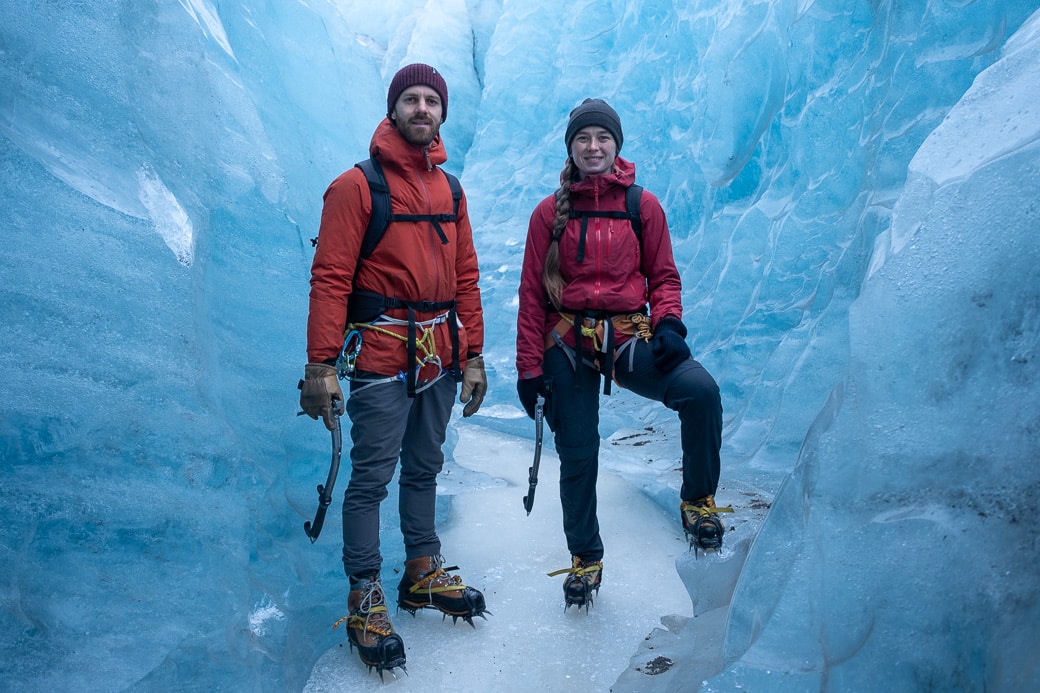 Glacier and Volcano Expeditions
Glacier and Volcano Expeditions is a small family run guiding company based in Skaftafell. They are professional guides that focus on providing environmentally sustainable adventures of the highest possible standard of safety and experience. Glacier and Volcano Expeditions take pride in leading glacier hikes, kayaking/ packrafting trips, ice cave tours, ice climbing adventures, and volcano hikes. You can visit their website by following this link here.
Back to blog
---