Renting a camper is one of the major decisions you'll have to make for your trip to Iceland. We have gathered answers to the most frequently asked questions about renting a campervan in Iceland. 
How do you choose the right camper in Iceland?
Timing is everything!
The first thing you will have to decide when choosing the right camper in Iceland is when you want to come to Iceland! Do you want to witness the midnight sun or the northern lights? Unfortunately, you cannot do both on the same trip.
The right camper in Iceland for winter camping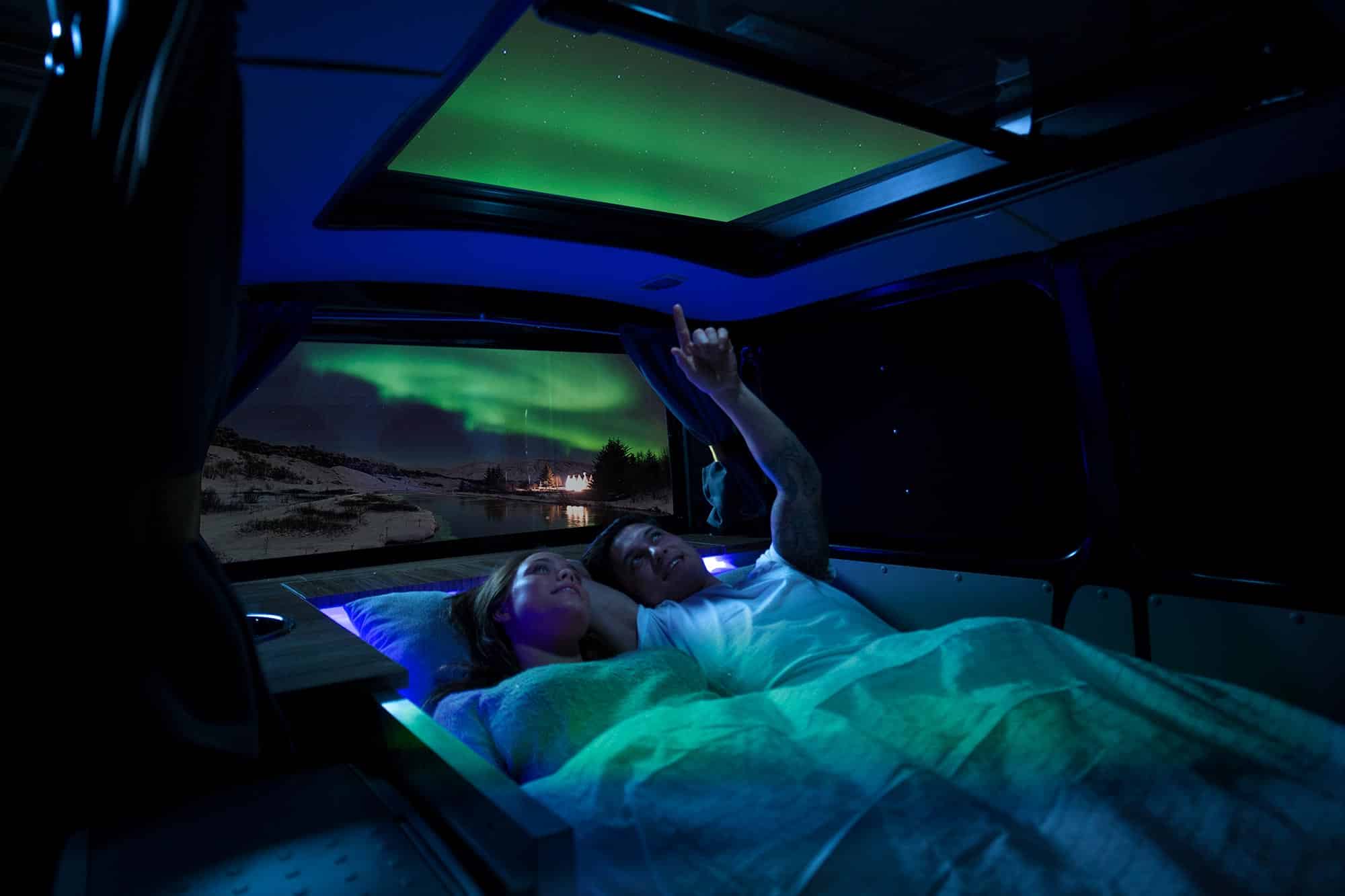 Meet the Highlander, a 4×4 northern lights camper.
If you decide to come in the winter, we have great 4×4 campers for chasing the northern lights comfortably. Known as the Highlander—there is a Highlander I, Highlander II, Highlander III—this fleet of premium campervans features a panoramic sunroof, which is perfect for this pursuit. And one can open this sky roof.  
The Highlander I is made for exploring Iceland safely and comfortably, with its larger tires, raised chassis and suspension system, and tire inflator. This camper is designed and customized for the F-roads. 
A cozy sofa bed with pillows and duvet, a refrigerator or cooler and cookware, a tablet and free Wi-Fi, and a high-quality heating system make the Highlander a cozy winter camper. If you get this campervan, you do not even need to get out of the car to see the lights—it can get pretty nippy outside in the cold waiting for the lights. The 4×4 camper can fit up to three people.
The Highlander II is a spacious Volkswagen T6 – long and can fit two people and their luggage (two 20 kg suitcase + two 0 kg carry-on bags). 
For three people, the Highlander III is a perfect fit. It blends luxury and functionality, as evident in its interiors and features.    
The right camper in Iceland for summer camping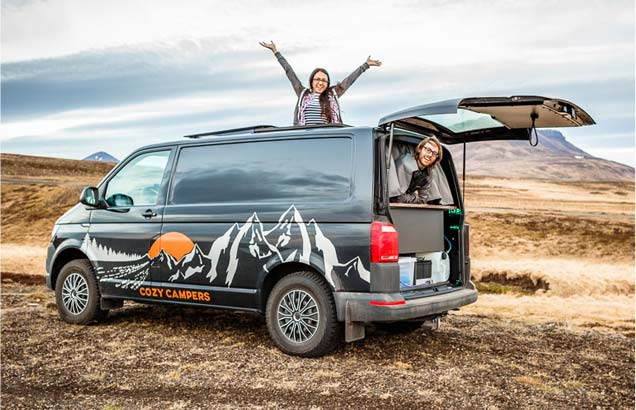 If you come in the summer, we have great options for that as well. We have 2×4 campers that fit between two and three people. 
If you want a small camper for an intimate holiday in Iceland, choose the Cozy 1 from our standard camper lineup. It may be the smallest in the Cozy Campers fleet, but it also has the best price. Cozy 1 sleeps two people who'll have access to cookware, gas stove, sofa bed, and blackout curtains for those bright summer nights. We have another Cozy 1 with automatic transmission, although with a higher daily rental rate than its manual counterpart. 
There's also the Cozy 2 camper whose medium size and automatic transmission make it a convenient choice. The campervan sleeps two people and offers luggage space for one 20 kg suitcase and two 10 kg carry-on bags. Like the other Cozy campers, it is equipped with essentials for a cozy time in Iceland in the summer, including but not limited to large windows and blackout curtains, a sofa bed, a kitchenette, a charging station, and extra battery. 
And our latest Cozy 3 is one to impress with its luxurious interior and large size that sits and sleeps three people. From its high-quality heating system to linens, pillows, and duvets, the camper is made for a summer road trip in Iceland to remember.    
We also have budget-friendly campers, with manual and automatic transmission options. They each sleep two people and offer essentials, including a gas stove, sink with running water, refrigerator, and cookware.
The beautiful Icelandic midnight sun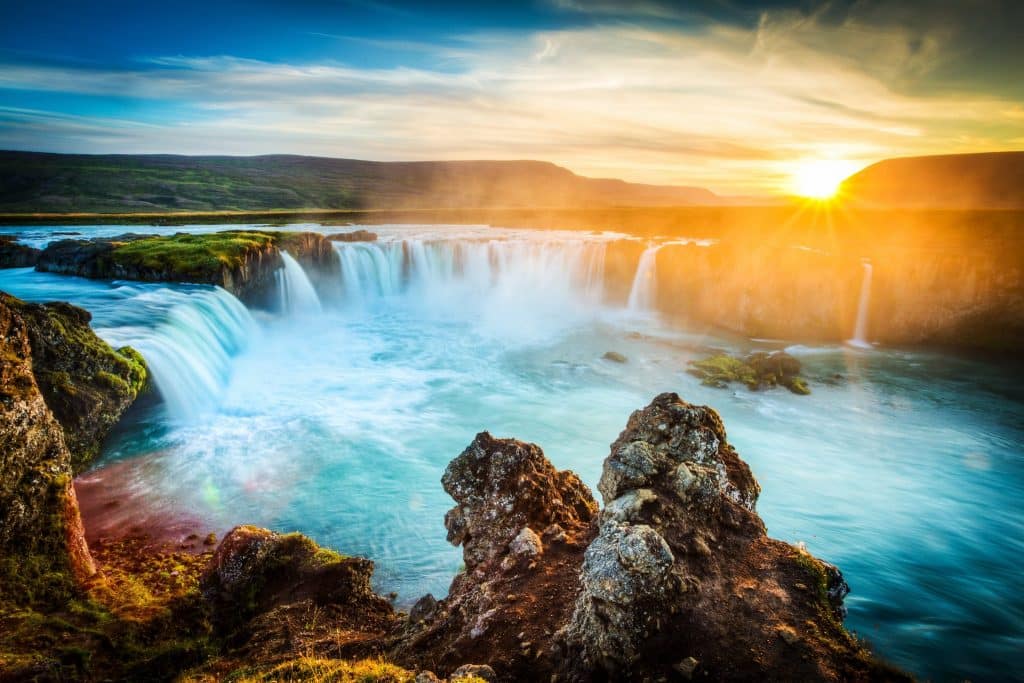 If you come around 21 June, we recommend you drive to Akureyri or even further north to see the sun not go down. It is quite the sight to see; it lightly touches the horizon and then rises again.
Make sure you're getting a good deal on a camper in Iceland
When booking a camper with us, you get unlimited mileage, free pick up and drop off within the Reykjavík area, a free Flybus transfer from Keflavík International Airport, free cleaning, and absolutely NO HIDDEN FEES.
Another thing to consider: neither summer or winters are warm in Iceland, but apart from the almost constant wind, the weather here is relatively mild. We recommend you wear layers, no matter the season and take care of not becoming wet. The Icelandic wool gives a great insulation; it keeps you warm and dry.
How different are our campers in Iceland from other campers?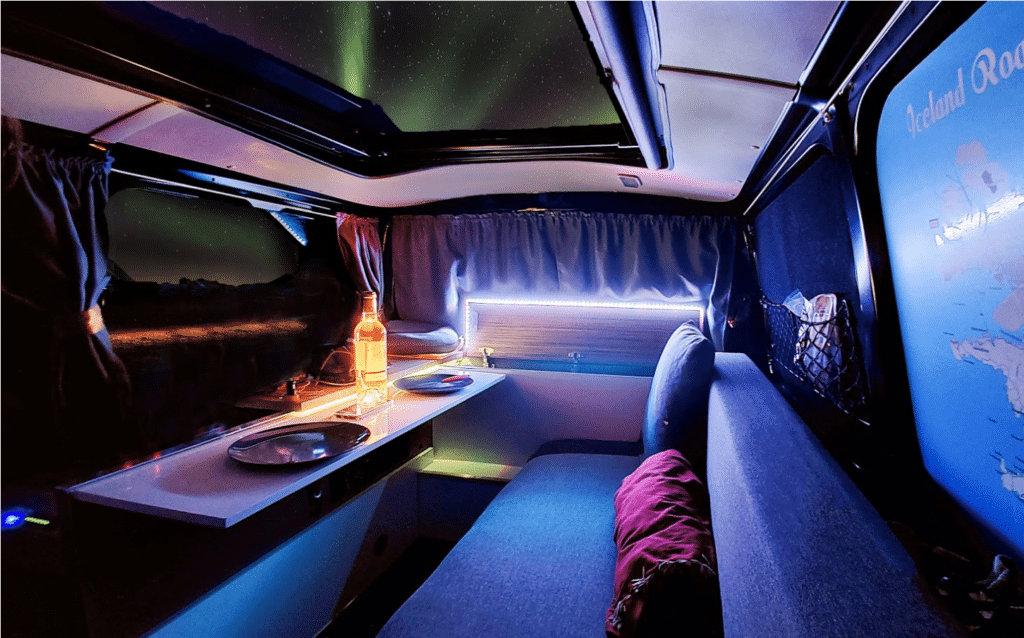 Heating is a huge factor, for us at least. 
We at Cozy Campers offer a high-quality heating system in all of our campers as well as a spare battery for more heating for those extra cold days and nights. Each camper also has a gas stove, blackout curtains for those bright summer nights, a quality sofa-bed, duvets, pillows, and more. 
We also have northern lights campers. Specifically, we have 4×4 wheel drive campers which make driving in Iceland during the darkest and coldest months much easier. Just make sure to not go beyond your abilities and drive according to road conditions. 
Our campervans can be manual or automatic. You can only get a 4×4 camper in automatic, and our Highlander is a 4×4 camper. 
The northern lights are best seen when the skies are clear, but that also means the night is colder than if it had been cloudy. Standing outside in the cold for possibly hours is not for everybody, so staying inside your Cozy camper lets you stay warm while viewing the spectacular light show. 
It also gives you a different way of seeing the long twilights of Iceland. Even though we only get about four hours of daylight during the shortest days in December and January, our twilights last for hours, and the sunsets and sunrises are often extremely beautiful.  
Can you camp in a camper anywhere in Iceland?
The short answer is no.
Most of the countryside is privately owned by farmers. Trust us when we say: you do not want to wake up with an angry farmer knocking on your camper. So you can´t camp your Cozy Camper van just anywhere in Iceland.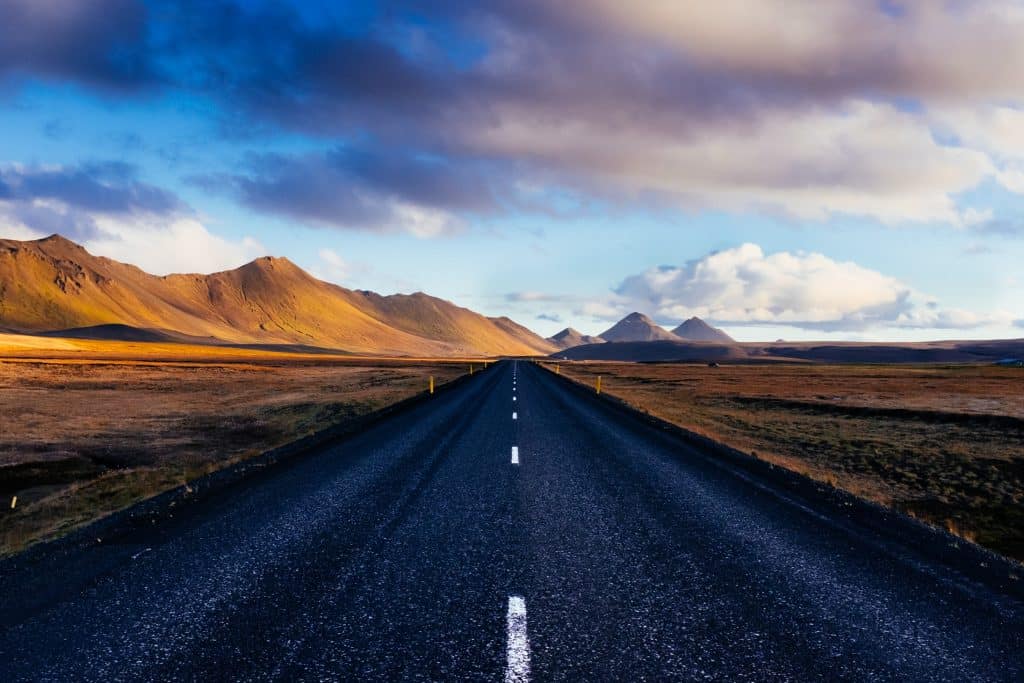 On the road in Iceland. No traffic here!
But where to camp?
Fun fact: Although Iceland is small in population, the size of the county is similar to Austria. For comparison Iceland is home to more than 370.000 people, Austria has close to 9 million residents, so there is plenty of space for every one in Iceland.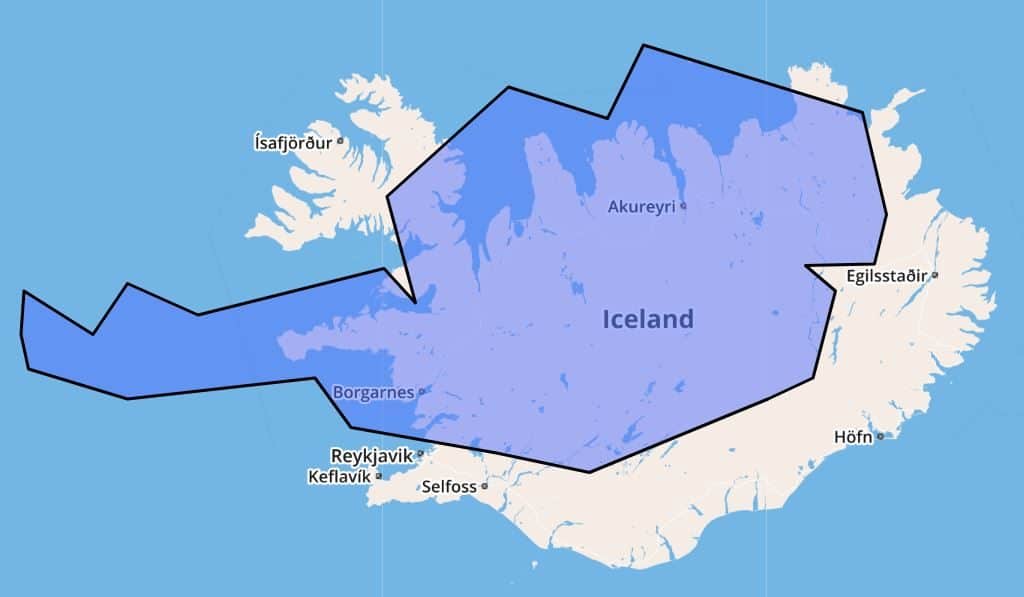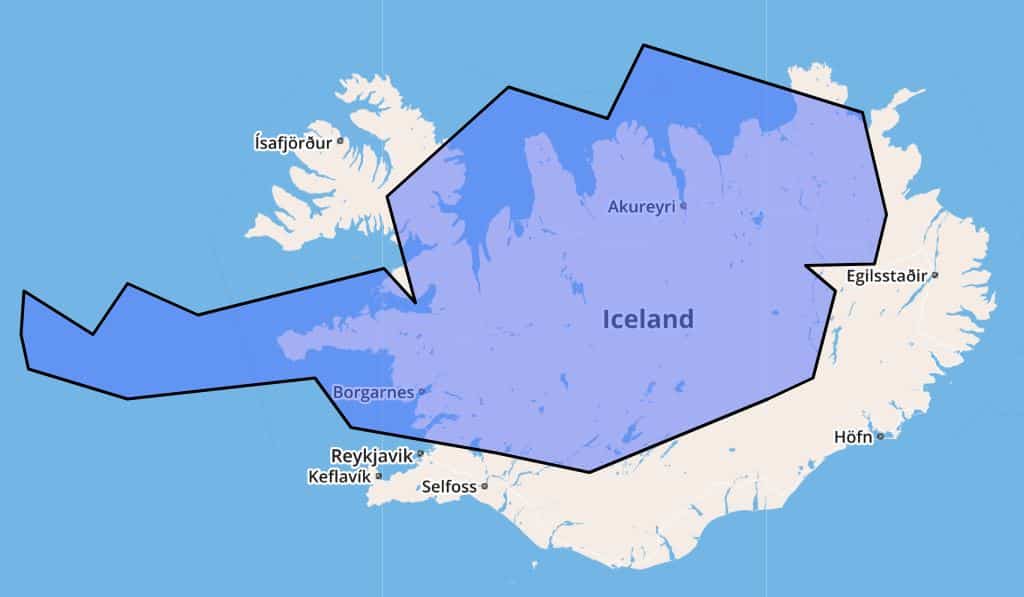 Even with all this space there are limitations to car traffic around the country. Being a volcanic island Iceland has a lot of mountains and highland landscape. You can easily drive along the ocean all along Iceland. Crossing the island is a different story. There are a few highland roads that are open in summer and only for large 4×4 vehicles. So already you are mostly limited to the ocean front.
Camping Sites in Iceland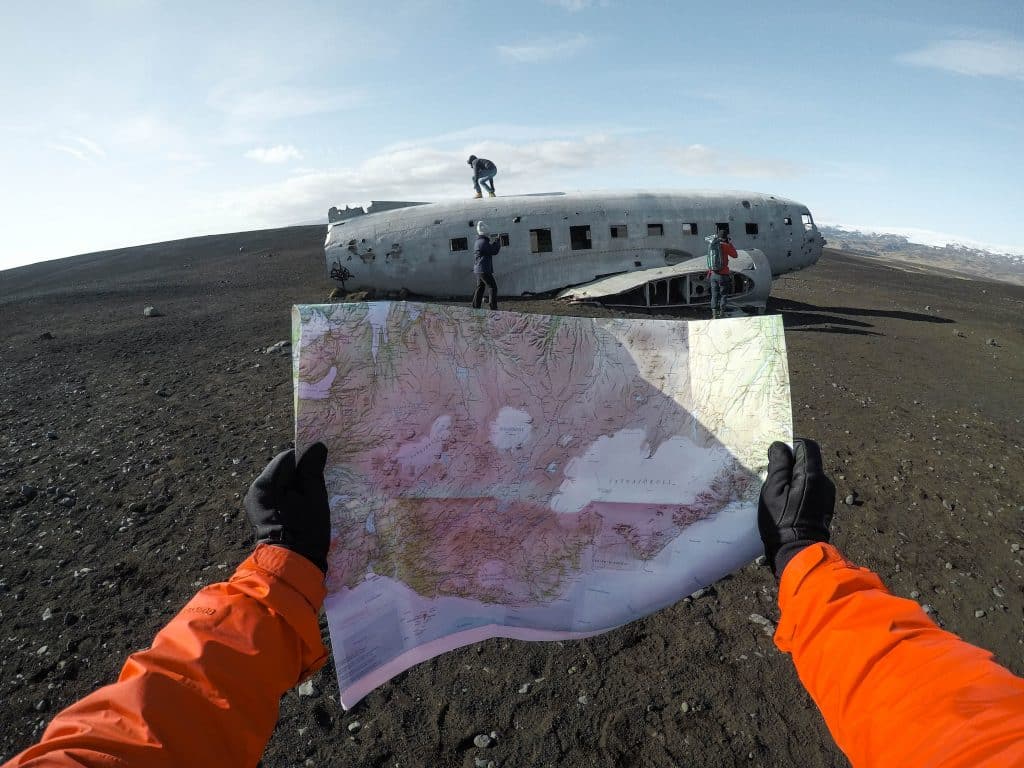 Would you rather have an actual map at hand, instead?
But of course there's some good news. There are plenty of camping sites all over the country! Here is an overall map of Iceland with campsites that are open all year round, open parts of winter, open in summer, and those that accept camping cards.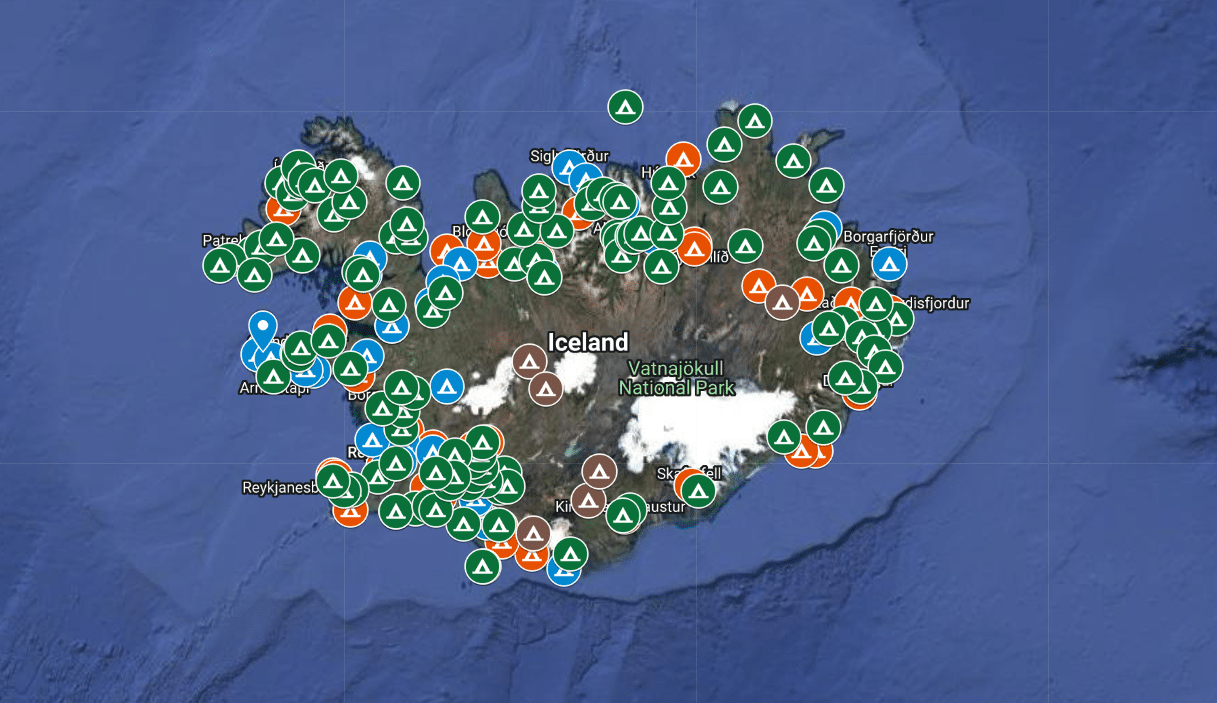 Camping in a camper van is a great option when traveling in Iceland. It's cheaper than staying in a hotel and much warmer than staying in a tent. You don't have to pack as much camping gear, and it is an overall great decision on your part. Well done!
To sum up: Camp in official campsites only, stay safe, and enjoy the freedom of traveling around Iceland.
Back to blog
---