Timing is everything!
The first thing you will have to decide when choosing the right camper in Iceland is when you want to come to Iceland! Do you want to witness the midnight sun or the northern lights? Unfortunately, you cannot do both on the same trip.
The right camper in Iceland for winter camping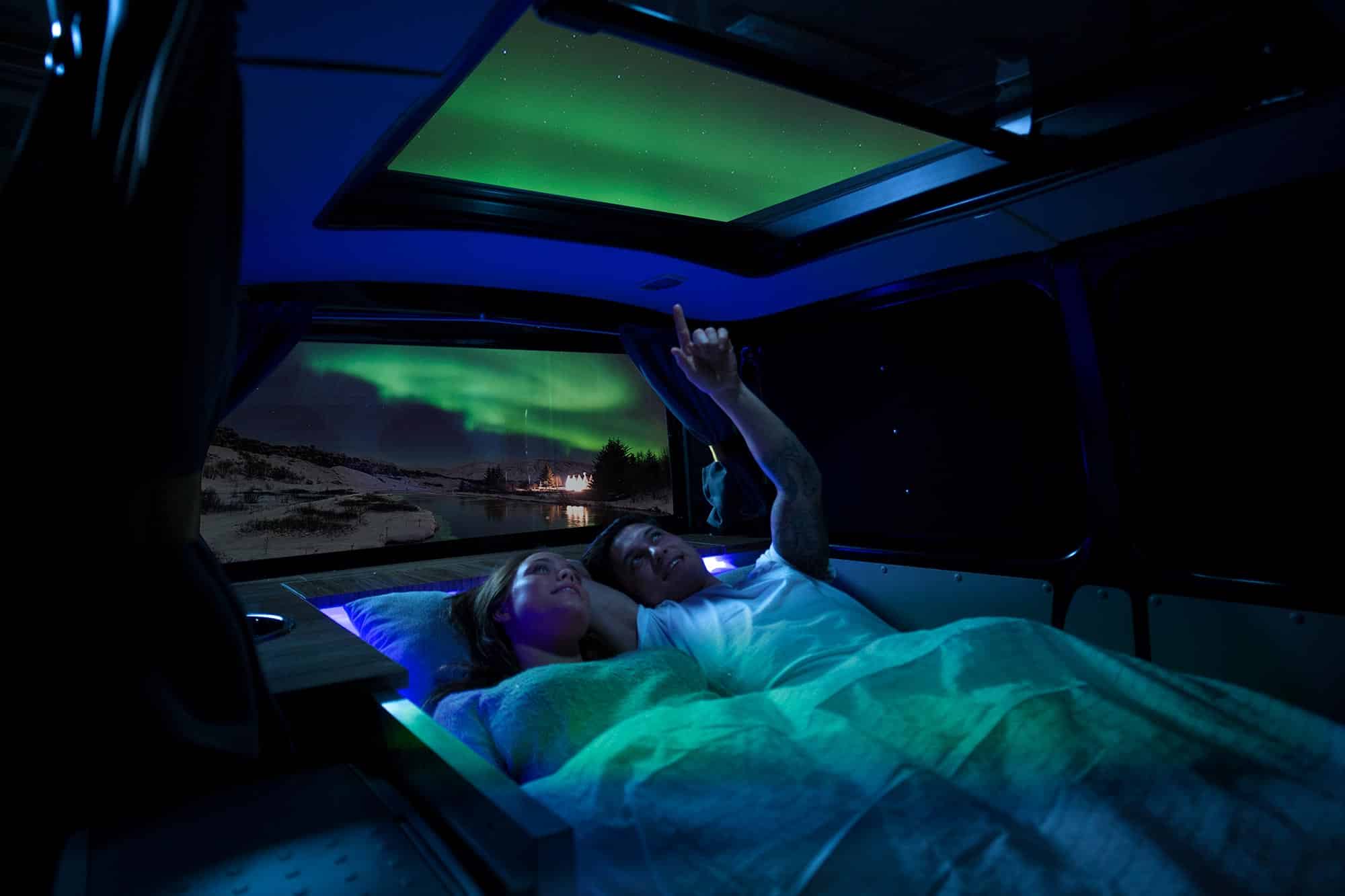 If you decide to come in the winter, we have great 4×4 campers with a unique skylight to view the northern lights. We call the campers the Aurora Explorer. We are the only company in Iceland that offer that kind of campers. They are all fitted with a state of the art heating system, cozy sofa beds, a charging station, extra batteries and a fully equipped kitchenette. If you get our Aurora Explorer, you do not even need to get out of the car to see the lights – it can get pretty nippy outside in the cold waiting for the lights. The 4×4 campers can fit up to three people.
The right camper in Iceland for summer camping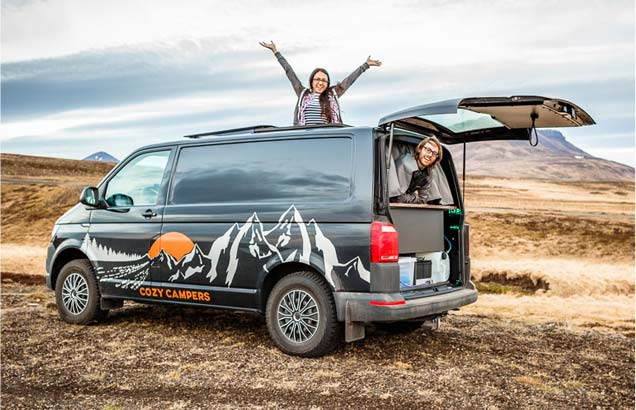 If you come in the summer, we have a few other options as well. We have four types of 2×4 campers that fit between two and three people. If you want a small camper for an intimate holiday in Iceland, choose the Cozy 1. However, if you want an automatic camper, pick the Cozy 2 camper. The campers have blackout curtains for those bright Icelandic nights. And like the Aurora Explorer, they are fitted with a heating system, a sofa bed, a kitchenette, extra batteries and a charging station.
The beautiful Icelandic midnight sun
If you come around 21 June, we recommend you drive to Akureyri or even further north to see the sun not go down. It is quite the sight to see; it lightly touches the horizon and then rises again.
Make sure you're getting a good deal on a camper in Iceland
When booking a camper with us, you get unlimited mileage, free pick up and drop off within Reykjavík area, a free Flybus transfer from Keflavík International Airport, free cleaning, and there are absolutely no hidden fees.
Another thing to consider: neither summer nor winters are warm in Iceland, but apart from the almost constant wind, the weather here is relatively mild. We recommend you wear layers, no matter the season and take care of not becoming wet. The Icelandic wool gives a great insulation; it keeps you warm and dry.
Back to blog
---