So, you have bought your plane ticket to Iceland and booked your Cozy Camper. Now the only thing left is to plan what to pack for your exciting trip!
We have put together a list of top 3 things that you must bring on your camper trip to Iceland!
Warm and/or waterproof clothing
People say the weather changes every five minutes in Iceland. It is often true, but we do have periods where the weather does not change for a whole day!
It is best to layer up when dressing for Iceland, no matter the season, but to wear something warm is essential because the wind, which rarely lets up, is nippy. If you get warm, you can just take it off. It does not hurt if the item of clothing is waterproof as well.
Camera and tripod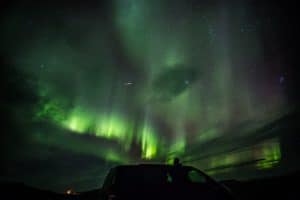 This is maybe an obvious one because everyone has a camera, and often a great one, on their phones. However, if you have a chance to take a camera and a tripod with you, we highly recommend it. If you do not have a separate camera, we recommend you bring a tripod for your phone instead. Most phones have specific settings, such as ISO and shutter speed which makes it possible for you to even photograph the Northern Lights!
"Góða skapið"
In English, it translates as the "good mood". It might sound tacky, but it is something Icelanders always say when we go travelling. We must not leave our good mood behind. It probably goes without saying but, bringing your good spirit and sense of adventure is essential for travel in Iceland.
If you accidentally take the wrong turn, it is the start of an adventure. Or you could simply just turn around. That is also a possibility. But by taking everything in your stride, will make anything that comes your way a pleasant experience.
We hope this top 3 list helped you to make your trip to Iceland even more exciting!
Back to blog
---