When it comes to the Northern Lights, we can assure you that the forecast is quite accurate. Gone are the days when a meteorologist on duty was solely responsible for the text and measurements of the forecast (meaning that sometimes the accuracy of the forecast was not so good). Today, the Northern Lights forecast is 100% automatic. Satellites operated by The National Oceanic and Atmospheric Administration of the United States (NOAA) sends the information.
The Northern Lights season and the Northern Lights Forecast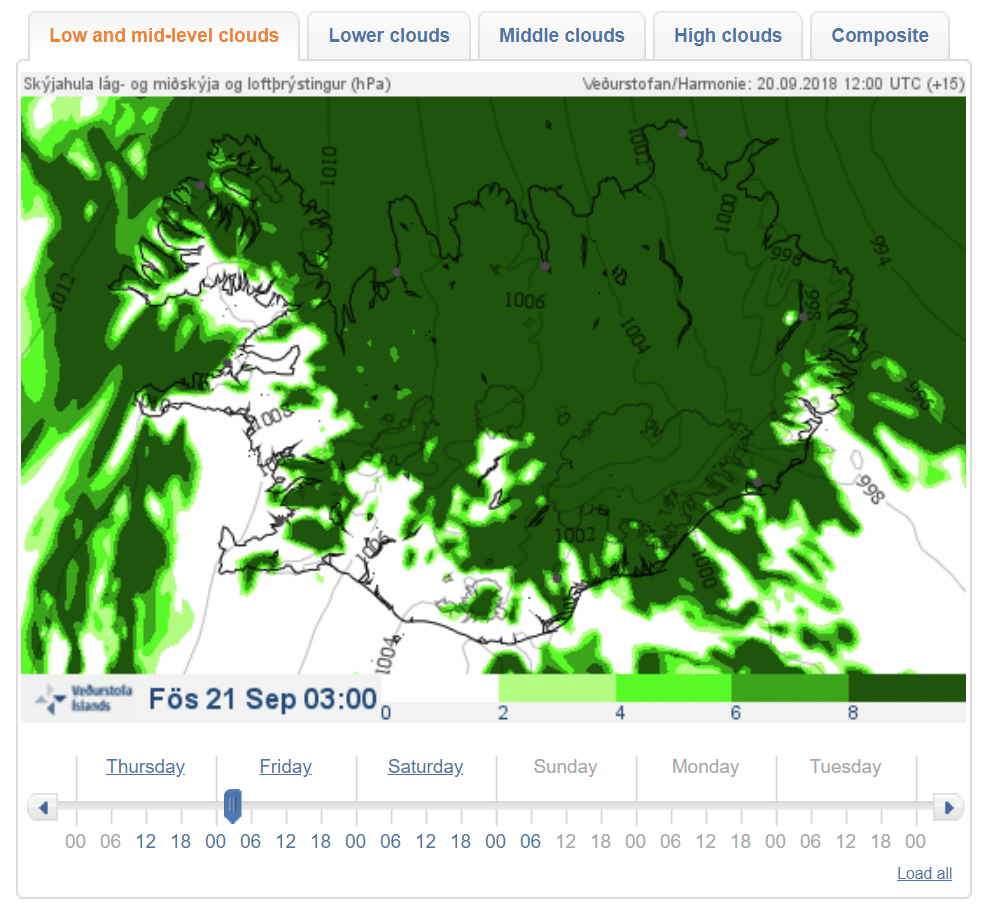 The Northern Lights season runs from September 1st until mid-April, when the nights are dark, and the sky is clear — perfect conditions for the Aurora Borealis (aka the Northern Lights). The activity is greatest during the middle of the night, as that is when the Aurora moves over Iceland [1]. The most important factor in the forecast is the cloud cover. Clearer skies make it easier to see the Lights.
Before you go hunting, we recommend that you look up the Northern Lights forecast at the Icelandic Met office. The forecasting index runs from 0-9, with 0-3 being the most common one. The highest numbers are very rare. The higher the number, the bigger the Aurora. You can use the index to locate the best spot to view the Aurora.
The Aurora Explorer camper helps you hunt for the Northern Lights!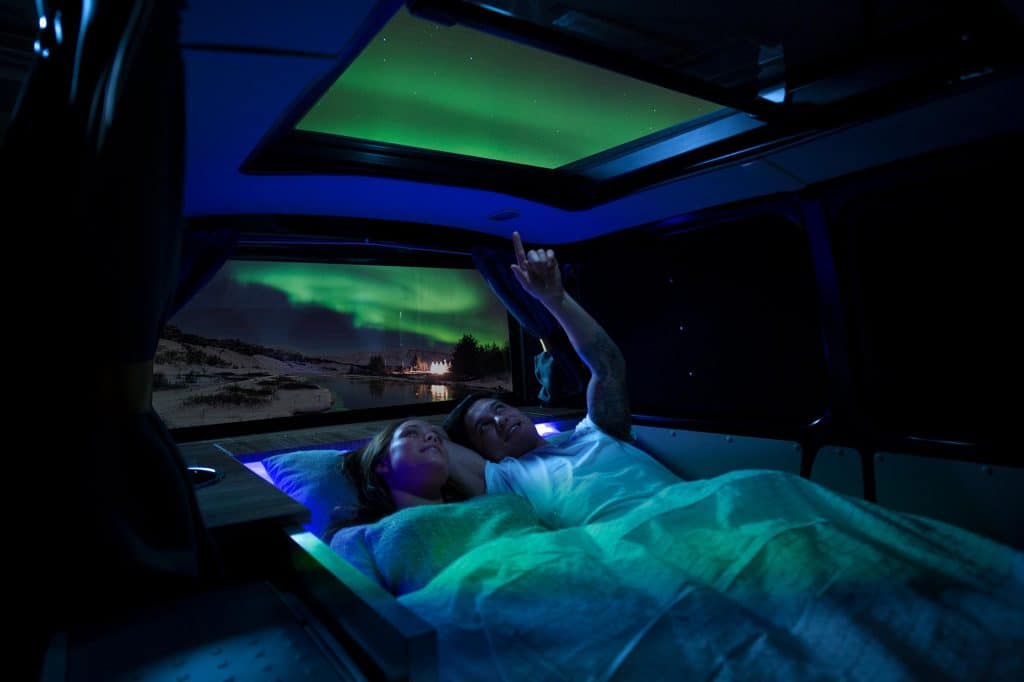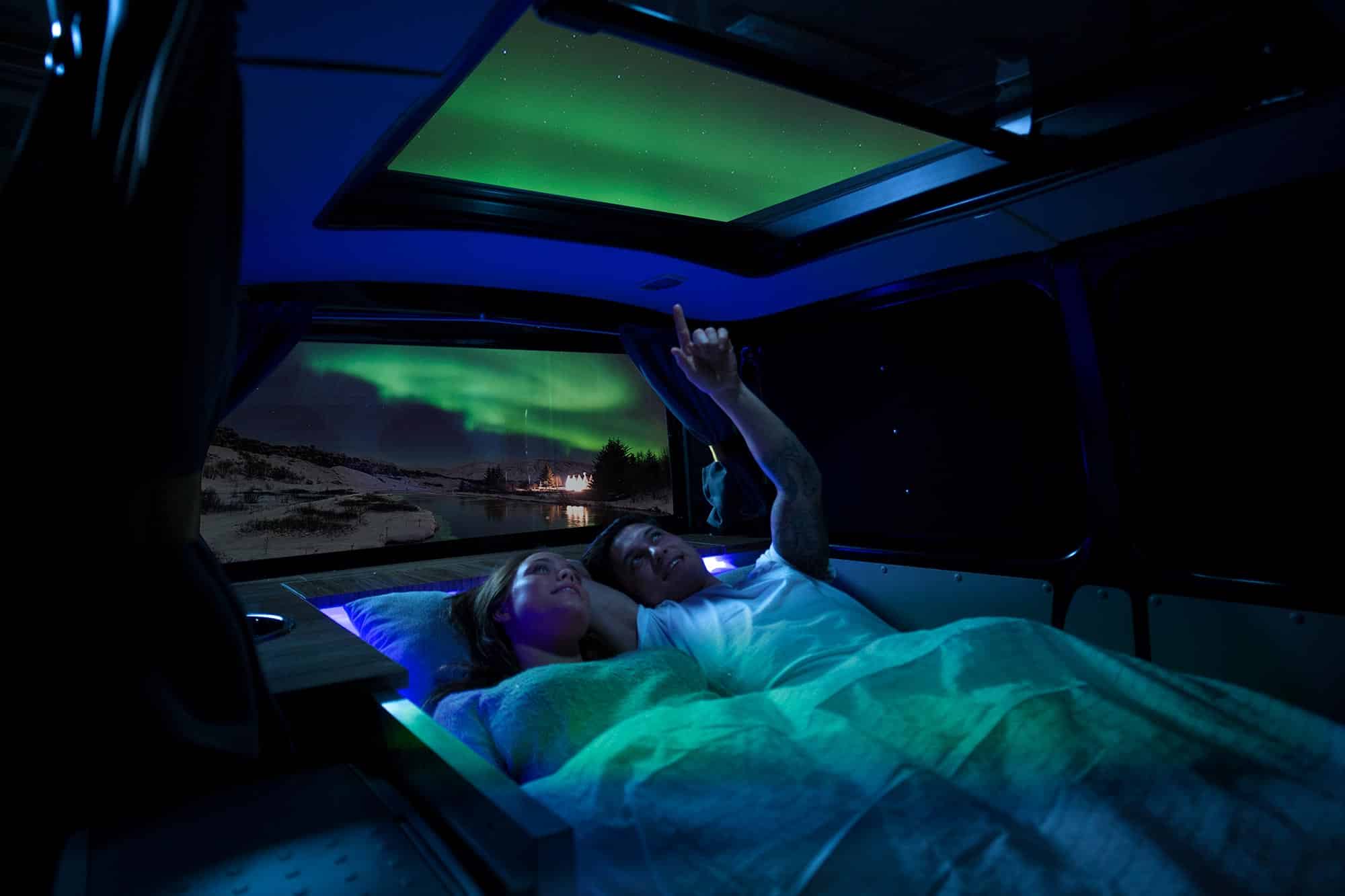 As seen on LonelyPlanet, our unique Northern Lights Hunter Camper, the one and ONLY Aurora Explorer, can help you hunt for the best Northern Lights viewing spot.
Features:
• A luxury 4×4 camper
• A panoramic sunroof you can open
• Large windows
• A comfortable sofa/bed
By a mile, the best way to see the Northern Lights in Iceland!
The power of being patient
After finding out the best spot from the Northern Lights forecast, patience is your best friend. If the cloud cover is in your favor, simply get comfy in your camper, relax, and be patient, as even though the index is low, you are likely to hit the Northern Lights jackpot.
So, on the right night with the right forecast, the romance of being spellbound by the Northern Lights is definitely with your reach, and viewing the Lights from your cozy camper makes the experience even more enjoyable.
[1] http://en.vedur.is/weather/articles/nr/2549
Back to blog
---