Icelanders are very proud of their Viking ancestry, and Iceland is one of the best countries to learn about them. Therefore, we have made a list of the best places to learn about Vikings in Iceland.
Viking World
By the seaside of Reykjanesbær on the Reykjanes Peninsula, The Viking museum is located. There are five exhibitions as well as a small zoo which includes animals like the settlers brought with them, a playground and an outdoor classroom.
The Viking ship Icelander is the biggest attraction, built by Gunnar Marel Eggertsson. It is based on a real Viking ship from the 9th century. What makes it extra special is the fact that Gunnar sailed the ship from Iceland to New York in the year 2000. It was a part of the 1000-year anniversary celebration of Leifur Eiríksson discovering the New World some 1000 years before.
The National Museum of Iceland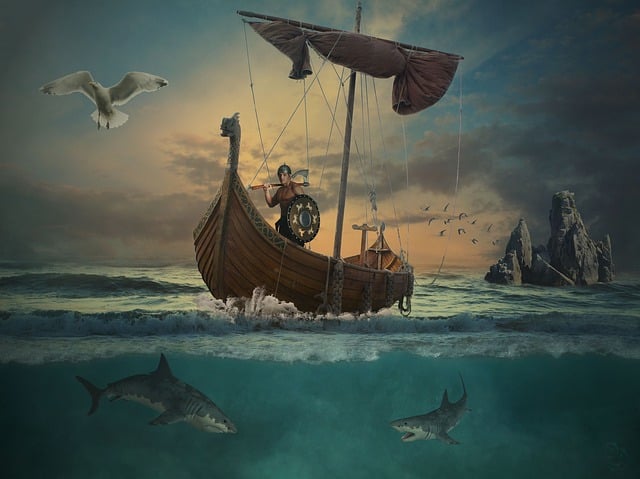 Making of a Nation – Heritage and History in Iceland, is the permanent exhibition of the National Museum. It is on two floors and shows the history of Iceland from the settlement to the present day.
The first-floor deals with the Vikings in Iceland and what they have left behind, as well as the emergence of Christianity and its effect on the nation.
The Settlement Exhibition
The Settlement Exhibition in Aðalstræti, the oldest street in Iceland, is a small museum. The open excavation you can see in the museum was discovered in 2001 when work began to renovate and rebuild the buildings in the area. Since, the remains turned out to be the oldest evidence of settlement in Reykjavík, with some of it dating from between 869-873. There, you´ll also find a 10th-century longhouse.
With interactive technology you get you learn about how the settlers lived in Reykjavík as well as how the Vikings built their buildings.
The Commonwealth Farm Stöng where vikings used to live
In Þjórsárdalur in South Iceland, you can find the commonwealth farm Stöng. It's a reconstructed farm which on an excavated farm from the early settlement in Iceland. Inside the house, you get to learn about how the settlers lived their daily lives. Allegedly, the Hekla eruption in the year 1104 destroyed the original farm.
Back to blog
---